Trying To Decide between Softex and Leather Seats? We got you.
If you're in the market for a new car, some questions may arise. For example, you may be deciding between seat fabrics and can't choose. Well, if that's the case. Our experts here at Toyota of Clermont will cover the difference between SofTex seats and leather seats to help you decide which one is the better fit for your next Clermont Toyota.
What are SofTex Seats?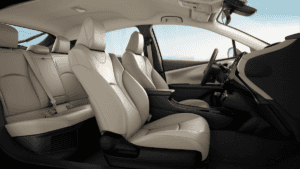 SofTex is synthetic vegan leather that's a great alternative to leather car seats. It holds a similar look to leather seated interiors with many benefits that differ from leather seats in your Clermont Toyota.
What are Leather Seats?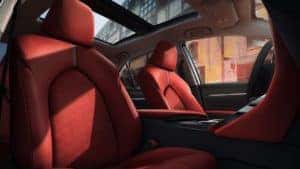 Leather seats are derived from animals and have been favored for their stain resistance and resistance to smells with a sleek look and a comfortable feel for drivers and passengers.
The Differences Between SofTex and Leather Seats
Our experts at Toyota of Clermont are here to go over the differences between your interior fabric options inside your next Clermont Toyota.
How they handle different climates
Leather Seats
Leather seats get hot and stay hot much easier than SofTex seats. Why, you may ask? Well, leather seats absorb UV rays, soaking up the heat. But, to one's surprise, they also absorb the cold just as much, making it more likely your Clermont Toyota will need the seat warmer feature in the winter.
Softex Seats
Softex seats have a special coating that allows UV Rays to reflect and absorb less heat. So if your goal is to have a more balanced temperature seat, SofTex may be your perfect pick!
How to Maintain Leather and
SofTex Seats
Leather Seats
Leather seats often require routine cleaning and conditioning to keep them in good condition. In addition, leather seats may be more susceptible to cracking than SofTex seats over time if they're not properly maintained.
SofTex Seats
SofTex seats tend to be more dirt resistant. They will clean up fine with soap and water if you spill a liquid in your Clermont Toyota, so you can skip the conditioning with these seats. However, Leather and SofTex surfaces are both highly durable, making either option a great pick for many drivers.
The Cost
Leather Seats
The cost of leather seats is more expensive than any other seat fabric because of the extensive process the material endures to perfect this seat fabric.
Softex Seats
SofTex seats are less expensive than leather seats but more expensive than fabric seats.
What you can expect from the look and feel of these fabrics
Leather Seats
Leather seats hold their high-end look to them with a tough cushion, making them both very comfortable and stylish options.
SofTex Seats
These seats are a thinner material and are very soft. They look very similar to leather seats, but the fabric has a more delicate look than leather seats. Soflex leather comes in wide different varieties of colors. Since it's synthetically made, the options are endless!
Want to see leather and SofTex interiors in person? Visit Toyota of Clermont!
We have new cars arriving daily. Give us a call! See leather and SofTex seats in person – visit Toyota of Clermont at 16851 State Road 50, just west of the Florida Turnpike. You can also shop online or call us for additional information at (352) 404-7000.