Car Accessories You Need To Protect Your Back Seats With Pets
As cute as they are, pets can tear up cars, whether they're drooling all over your Softex or leather seats, scratching their nails into your interior, or running all over your car while you're trying to pay attention to the road.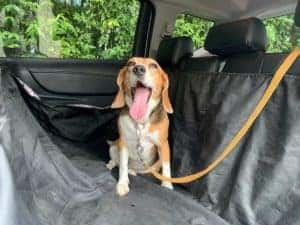 Our dogs aren't just our pets; they're our family. According to a survey by the American Automobile Association, over 80% of dog owners drive with their pets in the car. We love having them with us on long drives or road trips, except when they ruin the interior of our new Clermont Toyota. Toyota of Clermont's part store is here to give you the car accessories you need to protect your back seats with pets. 
Keeping your back seats clean with dogs
Invest in a backseat hammock or seat covers
These will fully cover your back seats from the unwanted drool, dander, and scratches dogs may bring to your back seats. They're cozy car accessories for your dogs to relax after a day at the dog park. They're also very easy to use! 
Buy Door protectors to keep your doors from getting scratched up
Dogs like to move their arms and end up scratching when they get excited (this is especially true if they want you to open the car window). Unfortunately, their scratches can leave dents in your car doors. No need to worry, though. You can buy a car door protector. Car door protectors are easy to install and suit every Clermont Toyota model. 
Get your pup a booster seat! 
Kids aren't the only ones who might need a booster seat! That's right, there are booster seats for your dogs to sit comfortably with a safety leash and they are even height-adjustable, so your puppy can look out the window. Most importantly, they're great for ensuring your dog is secured and safe in the back seat. 
Buy a cover for the cargo area of your Clermont Toyota
.
You may decide to put your dogs in the cargo area of your car. For example, if there's a packed car, this may be where they end up sitting. In that case, buy a cargo cover to place there, so no damage or destruction occurs. Make sure to cover not only the floor of your cargo area but also the sides. 
Keep them up-to-date with nail trimmings!
Grab a nail trimmer to keep your dog's nails short. Despite many of the accessories listed above being able to endure the long nails of pets, it's still a good idea to keep your dog's nails trimmed. Of course, dogs are not exempt from a nice manicure and pedicure. Just saying! Also, your Clermont Toyota's backseat will thank you. 
Shop pet car care accessories at Toyota of Clermont today
Do you need to shop for car care accessories to protect your car from your pets? Call Toyota of Clermont today at (352) 404-7000 or stop by 16851 State Road 50, just west of the Florida Turnpike.