How To Take Care of Leather Interiors
You may be looking for a luxurious car with a breathtaking leather interior. But did you know that taking care of your leather car seats is a process? So, to keep your leather car seats in their best condition, Toyota of Clermont experts are here to ensure you know exactly how to take care of a leather interior.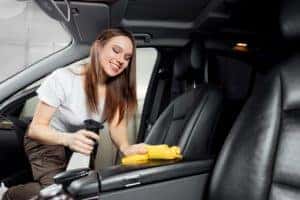 How to protect leather car seats?
Block sunlight by taking out direct sunlight when your car is parked. The best way to do this is to put a sun blocker on your windshield.

Don't use paper towels on your leather seats. Instead, use an old cotton t-shirt or a microfiber cloth. Paper towels can cause scratches on your leather car seats; no one wants that.

Use special leather conditioners on your Clermont Toyota seats. To protect your leather car seats, use special leather conditioners you can find at our auto shop store on your Clermont Toyota.

Don't let your Leather seats overheat! Keep the temperature down as much as possible in your Clermont Toyota. Maybe slightly open your doors to keep the air circulating in your car while it's parked in the sun.
How to clean leather car seats?
Vacuum your seats
It's a simple step in the process that helps your Clermont Toyota leather seats. But, first, you can get a vacuum and gather all the dust and crumbs in your car. Doing this helps maintain your vehicle because grains in your interior seats can cause damage to the surface.
Use a cleaner to clean any present stains or spills.
You can use a leather car cleaner or a DIY alternative as a cleaner can work as well to clean any present stains or spills in your Clermont Toyota.
Wipe using microfiber cloths
Make sure you wipe off the cleaner or excess dust with a microfiber towel. The type of material in a microfiber towel will absorb better, and the soft quality is excellent for your leather surfaces.
Clean sections one at a time
Make sure you only clean small sections one at a time, so you can thoroughly clean your leather car seats and don't miss any spots!
Don't let the solution dry up without drying it with a microfiber towel
Once you clean the interior of your Clermont Toyota, go ahead and wipe it down before it dries. If you don't dry it, you may not correctly clean out any stains and spills, leaving the cleaning product to sink into your leather seats.
Apply leather conditioner using a microfiber towel
The next time is to apply a leather conditioner using a microfiber towel. Again, don't spray the conditioner directly on the surface. Instead, spray the product onto the microfiber cloth, then direct it into your leather surface.
Let the conditioner sit on your seats
Wait a couple of minutes before wiping over it to remove it. Unlike the cleaning product, you want the conditioner to sink into the leather. This way, it polishes the surface of your car's interior.
What products should you use on leather seats?
Lexol Conditioner Cleaner kit

Weiman Leather

Leather Honey Conditioner

Cream of tartar and lemon juice blend well for antibacterial properties, low ph, and high citric acid content

Olive oil and vinegar dissolve quickly. It disinfects, kills germs, and is an excellent deodorizer. The vinegar smell fades quickly and takes the smells with it.
Have more questions? Visit Toyota of Clermont!
We have new cars arriving daily if you're looking for leather seats. Give us a call! See leather seats in person – visit Toyota of Clermont at 16851 State Road 50, just west of the Florida Turnpike. You can also shop online or call us for additional information at (352) 404-7000.