Happy 25th Anniversary to the Sienna, & Hello, Special Edition Sienna!
We're celebrating 25 years of the Toyota Sienna model. It's gone through many transformations and evolutions over the years, so it's safe to say this model is due for a worthy grand celebration. We're talking about four generations going back to 1998. Toyota is celebrating the 25th Anniversary of the Sienna by introducing the special edition Sienna featuring an ultra-sporty XSE model. Toyota of Clermont experts are excited to honor the Clermont Toyota Sienna by diving into its roots' history and looking at the 25th special edition sienna features.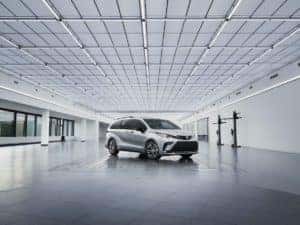 When the Toyota Sienna was born 
Minivans rose to popularity in the eighties and nineties, which meant the creation of the first minivan on the Toyota lineup, the Toyota Previa  –which was retired in 1999.  It was time for the more efficient Toyota Sienna to shine. The Toyota Sienna's 25 years of overcoming the reputation of being just the "the soccer mom car" by creating an elevated luxurious driving experience. 
Celebrating Sienna's roots through the first model
Let's go back to 1999 to honor this marvelous creation of a minivan by talking about the original model's features. It got its name "The Camry of Minivans" very quickly for being efficient, reliable, and most importantly, made of quality. That's the secret sauce of Clermont Toyota models, their quality and reliability. 
The first-generation Toyota Sienna model was 193.5 inches long on a 114-inch wheelbase, making it easy to drive with the luxury of passenger space. The powertrain paired a 3.0-liter, 194-horsepower V6 with a four-speed electronically controlled automatic transmission. It had an estimated 19 combined MPG fuel economy rating. It had emphasis on features such as:
Optional leather-trimmed seats

Anti-lock brakes

Available front seat-mounted side torso airbags

Vehicle stability control. 
Since, then the Sienna has seen quite the evolution. Did you know you can find this Clermont Toyota model at our dealership? 
Let's take a look at the 25th Special Edition Sienna features.
Here's what you can expect on the 2,525 units of the 25th Special Edition Sienna
Hybrid-Exclusive Sienna Line Has 245 Horsepower and up to a manufacturer-estimated 36 Combined MPG

Standard Toyota Safety Sense 2.0 with Automatic Emergency Braking

Woodland Edition Continues with AWD, Increased Ground Clearance, and Exclusive Features

Designed and Built in the U.S.

available in front-wheel drive or all-wheel drive 

includes the XSE Plus Package, which equips the Sienna 25th Anniversary Edition with roof rails, Premium Audio with JBL speakers and navigation, wireless charging, and a 1500-watt converter.

Available in Celestial Silver, with Wind Chill Pearl as a second color choice Clermont Toyotas.

Unique black badging and exterior trim, including mirror caps and shark fin antenna, accents the two available exterior colors of Clermont Toyotas. 
Get Your Hands On A 2023 Venza Nightshade Edition by Pre-Ordering at Toyota of Clermont!
You can find the 2022 Sienna at our dealership in Clermont, FL! So if you want to get your hands on this reliable ride, call us or see it for yourself in person – visit Toyota of Clermont at 16851 State Road 50, just west of the Florida Turnpike. You can also shop online or call us for additional information at (352) 404-7000.