Today, amazing new Toyota cars. Tomorrow, the moon!
Every year we eagerly read news articles and await the arrival of all new Toyota models like the Toyota Supra, Corolla Hatchback, and more to Toyota of Clermont. Taking to the streets with stylish, powerful, and tech savvy new rides is cool and all, but Toyota is aiming their sights higher. Like, the moon higher. While electric and hydrogen powered vehicles and self-driving cars will likely be the next great advancements in the automotive industry here on Earth, space tourism is a viable and future industry that several companies are investing heavily in. Knowing Toyota and their enthusiasm for the future, it's no surprise that they're planning for big things. Toyota of Clermont is here with the latest details on the Toyota moon buggy.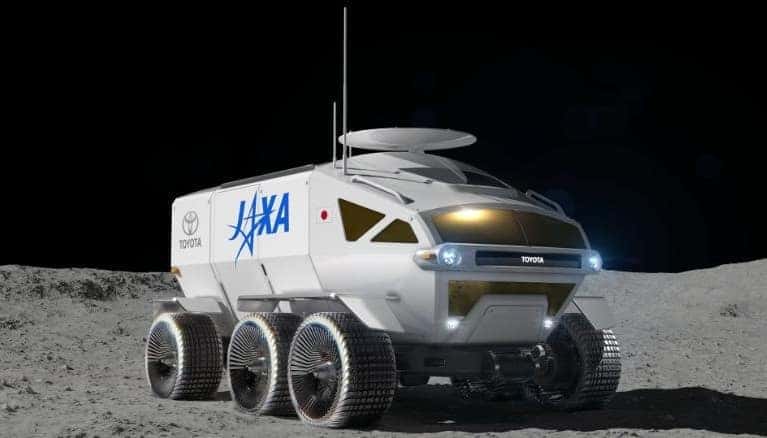 Taking over the roads on Earth and the moon
While we've had rovers and shuttles and rockets that can be reused, a giant moon buggy is definitely something new. This new Clermont Toyota project is estimated to come to fruition by 2029 and will use hydrogen fuel-cell and solar power cells for its operation. This will be a collaborative effort with Japan's space agency, JAXA, and initial plans on this Clermont Toyota moon buggy have been revealed. Conceptually, the vehicle will be 20 feet long by 17 feet wide and be able to house two astronauts. Here are some additional details we have at Toyota of Clermont:
The moon buggy is set to be launched in 2029 and begin major lunar exploration in the 2030s.
The cabin size will be about 140 square feet and pressurized to allow astronauts to navigate it without the need of space suits.
With use of both hydrogen fuel cell and solar electric power, this lunar vehicle is estimated to have a cruising range of 6,200 miles on a single charge.
The range is a significant improvement over previous lunar rovers that could only travel roughly 22 miles before needing to refuel each night.
This moon buggy will act as both a mode of transportation and a base with room to eat and sleep. This will help astronauts to venture further by creating a mobile base rather than a remote one that explorers will have to return to periodically.
When the Clermont Toyota moon buggy is ready to launch, it will be sent to the moon first and await the arrival of astronauts and then meet them at a predetermined destination.
The collaboration between Toyota and JAXA has the ultimate goal of making the lunar surface hospitable for human life. Through advanced and unhindered exploration, astronauts and will be able to learn more about the lunar surface and ultimately bring us closer to establishing hospitable conditions on the moon.
While it'll be quite some time before we see the launch of the Toyota moon buggy, technology in Toyota vehicles are advancing every day and you can shop all of it now at Toyota of Clermont! Visit us at 16851 State Road 50 seven days a week or shop our online inventory anytime.