The Differences Between A Moonroof, Sunroof, And Panoramic Roof.
Florida summers mean it's time to crank up the A/C, roll the windows down, and open your sunroof, moonroof, or panoramic roof to enjoy the breeze. Car rides are therapeutic; they offer an experience to explore cities, and different cultures while listening to your favorite playlist. We can thank Sunroofs, Moonroofs, and panoramic roofs for an even more elevated experience. But, you may wonder, what's the difference between these car features if they intend to do the same thing? Today, our experts at Toyota of Clermont are here to answer the difference between a sunroof, a moonroof, and a panoramic roof.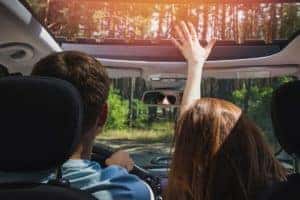 What is a Sunroof?
A sunroof is a panel that's on the roof of your Clermont Toyota that is able to be tilted open or fully removed manually to allow a breeze and natural light to cascade through your car. A sunroof matches the color and material of your Clermont Toyota's exterior and is removable. However, it doesn't allow you to fully open it from the access of a button like a moonroof. So, you probably have heard of the term "moonroof" used interchangeably for a sunroof. So, let's get into the difference. 
What is a Moonroof?
A moonroof, like a sunroof, tilts open, allowing a breeze and natural light into your Clermont Toyota all through the click of a button on your car's interior. However, the major difference is it's made of a tinted glass material that isn't removable (unlike the sunroof), and the engineering of the moonroof comes with an interior sliding panel that camouflages with your car's interior. It operates in a way that seamlessly lets passengers view nature above them without the breeze, as well as opening up the glass panel for a breeze. 
What if a Panoramic roof? 
The panoramic roof is a wide roof made out of glass material that allows you to view what's above your Clermont Toyota in its entirety. You may find yourself stargazing at night from the comfort of your Clermont Toyota with a panoramic roof. You can slide the interior compartment away to view from the glass roof, and if you want some fresh air, tilt it open. One of the many highlights of the all-new redesigned 2022 Tundra features a Panoramic roof! 
Should I get a sunroof, moonroof, or panoramic roof in my next car? 
If you're looking to get a new car, you may be deciding between must-have features, and one of these is on your list. This Clermont Toyota feature is great for those who want the convertible feel without the commitment convertible relies on. The commitment is the entire wind forward blowing on your hair and face. Of course, it helps that it also adds value to your car if you ever plan on selling it or trading your Clermont Toyota in for a brand-new model. 
Are you looking for this feature on a Clermont car? Visit Toyota of Clermont
So if you want to get your hands on a ride with all of the features you want, give us a call or see it for yourself in person – visit Toyota of Clermont at 16851 State Road 50, just west of Florida Turnpike. You can also shop online or call us for additional information at (352) 404-7000.