2022 Tundra Capstone Edition's Award Winning Interior
Who are we talking about today? Oh, you know, only the 2022 Wards 10 Best interiors and user experience winners. Not only was this Tundra truck engineered and designed in the US, but it has interior features that are user friendly with high-tech features you don't want to miss. The Tundra already gives a groundbreaking presence with its tough capabilities and luxury essence. Let's dive deeper into why the 2022 Tundra Capstone Edition earned its way into being the 2022 Wards top 10 best interiors and experience winner.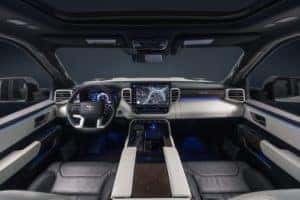 Comforting media experience with everything you need in a Clermont Toyota truck
When Toyota came out with a multimedia touchscreen display it was an absolute game changer. Their convenience allows drivers to get to their destinations safely by making navigating easier than ever with features like Apple CarPlay and Android Connect compatibility.  The Clermont Toyota Tundra steps it up even more with the Tundra Capstone Edition with a standard large 14-inch multimedia touchscreen display. The new system also supports standard wireless Apple CarPlay and Android Auto compatibility.
A user experience curated for families and road trips
What is really cool about the Tundra Capstone Edition is you don't get just one phone with bluetooth connectivity, you have the option for simultaneously connecting two phones to bluetooth in the same Clermont Toyota. Plus, with an optional Wi-Fi connect subscription you'll be able to connect up to five devices in your Clermont Toyota Tundra capstone edition. What this means is that you will be able to separate Apple Music and Amazon Music subscriptions within the vehicle with integrated streaming. 
A great driving experience for fun
Your driving experience in this Clermont Toyota truck will be anything, but boring. It will be lively and fun with opportunities to have an auditory experience with a 12-speaker JBL Premium audio system. Rest and relax with your very own Intelligent Assistant available through Drive Connect. You Won't have to worry about touching controls while driving, simply just ask for whatever you need and you will be given! Intelligent Assistant available through Drive Connect gives you the ability to ask for directions to the nearest desired location, points of interest, adjusting audio controls, and even small tasks like changing the cabin temperatures. You can be sure that your Clermont Toyota will have the latest updated navigation maps, thanks to cloud navigation offered through Drive Connect that gives drivers updates for mapping and POIs, and Google POI data. It's integrated to ensure up-to-date search capability. 
Test Drive a Tundra Capstone at Toyota of Clermont
You can find this 2022 Wards 10 Best interiors and user experience winner  at our dealership in Clermont, FL! So if you want to get your hands on the Toyota Tundra Capstone Edition, give us a call! See for yourself in-person – visit Toyota of Clermont at 16851 State Road 50, just west of the Florida Turnpike. You can also shop online or call us for additional information at (352) 404-7000.