New Info Revealed for the 2022 Toyota Tundra
Utility and muscle are key to getting things done and the full-sized pickup is a true testament to that sentiment. With their large engines, full sized beds, excellent towing capacity, and luxurious interior space, you'll find yourself the envy of every work project if you drive a pickup. On Toyota's lineup, the Toyota Tundra remains king when it comes to pickup truck utility and we're proud to provide it to our drivers here at Toyota of Clermont.
But, it's a well known fact that the Tundra is in dire need of a change. For the better part of 12 years, the Tundra has remained largely unchanged. While we love consistency as much as the next driver, we agree that change is due. Especially considering that other vehicle makes have redesigned their full sized pickup offerings. While the 2021 Clermont Toyota Tundra will retain the same aesthetics, we're happy to report some potential findings for the 2022 model year Toyota truck you'll be excited to hear!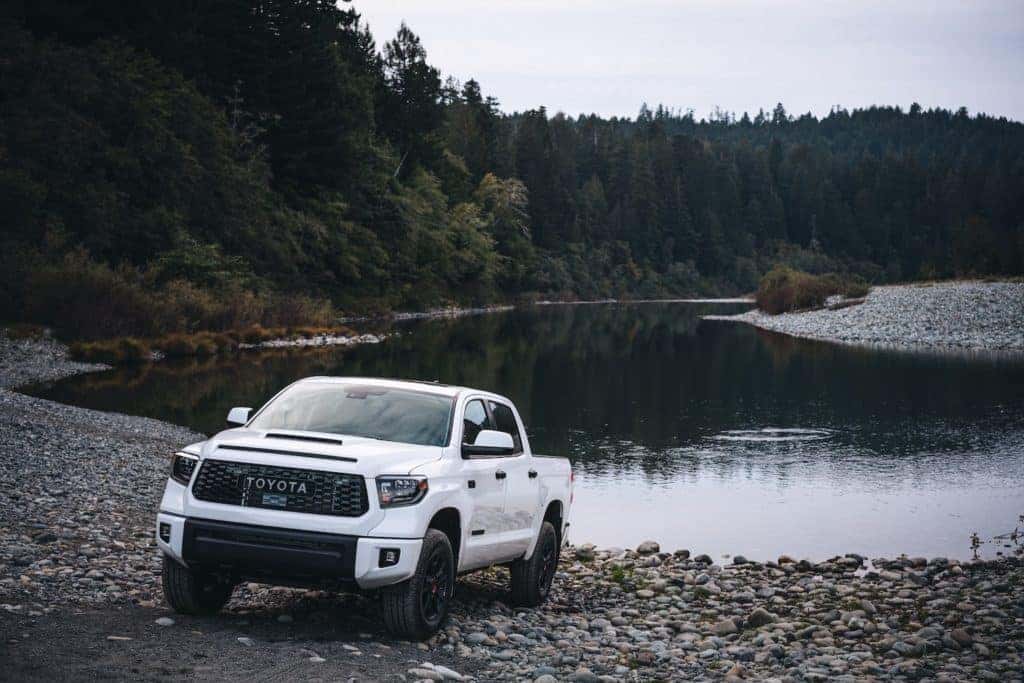 What's In Store for the New Toyota Tundra?
Without a proper redesign for over a decade, it's time to give the full-sized pickup drivers what they want and that means a redesigned Tundra at Toyota of Clermont. While most of what we're about to share with you is speculative, we're sure you'll still be pretty hyped about the 2022 Toyota Tundra's arrival.
Here are a few things you might see on the next rendition of Toyota's beloved full-sized pickup truck:
Toyota will likely design the Tundra on it's new truck chassis, Toyota New Global Architecture (TNGA-F). High-strength steel will provide a stronger and lighter body-on-frame build for the Toyota truck.
With a new chassis it's likely that the Clermont Toyota Tundra will adopt coil suspension springs in place of its current leaf springs on the rear axle.
Improvements to both the chassis and suspension system means that the Tundra will likely improve on its current towing capacity and payload.
This one's a big one! The Toyota Tundra might be getting an all-new engine layout. The Lexus LS 500, while a sports sedan, currently uses a twin-turbocharged V6. In Toyota's ongoing quest for electrifying its entire lineup by 2025, the Tundra could receive this engine along with hybrid drivetrain options. There's also talks of a smaller 3.5-liter V6 (the same engine as the Tacoma) being offered for the Tundra. The twin-turbo V6 can output 416 horsepower when mated with the LS 500.
As with any major vehicle model overhaul, you can expect a number of aesthetic changes to be made to the Clermont Toyota Tundra. The exterior will likely receive a refreshing redesign that's edgier and futuristic. For the interior, the 2020 Highlander's 12-inch infotainment head unit will likely be offered along with more cabin space. Plus, expect to see Toyota Safety Sense equipped on the Tundra and include safety features like Advanced Radar Cruise Control, Automatic Braking, Lane Centering, and more.
With the 2021 Toyota Tundra set to arrive sometime before this year is over, it's unlikely we'll see the 2022 model arriving earlier than end of next year. While that's a little while to wait, we'll make sure to keep you updated with any new information we come across!
If you're looking to get behind the wheel of the current model year Toyota Tundra, Toyota of Clermont is here to help! Shop our inventory online anytime or visit the dealership at 16851 State Road 50.