How Much Can A 2023 Toyota Tundra I Force Max Tow?
The Toyota Tundra makes the competition disappear with its impressive performance. The 2023 Toyota Tundra has been refreshed and upgraded with even more features and better towing capacity with the Tundra's available i-FORCE MAX engine. So, get even better performance with hybrid tech. But how much can a Toyota Tundra I Force Max tow? Toyota of Clermont experts are here to answer your questions on the 2023 Toyota Tundra I Force Max Towing Capacity.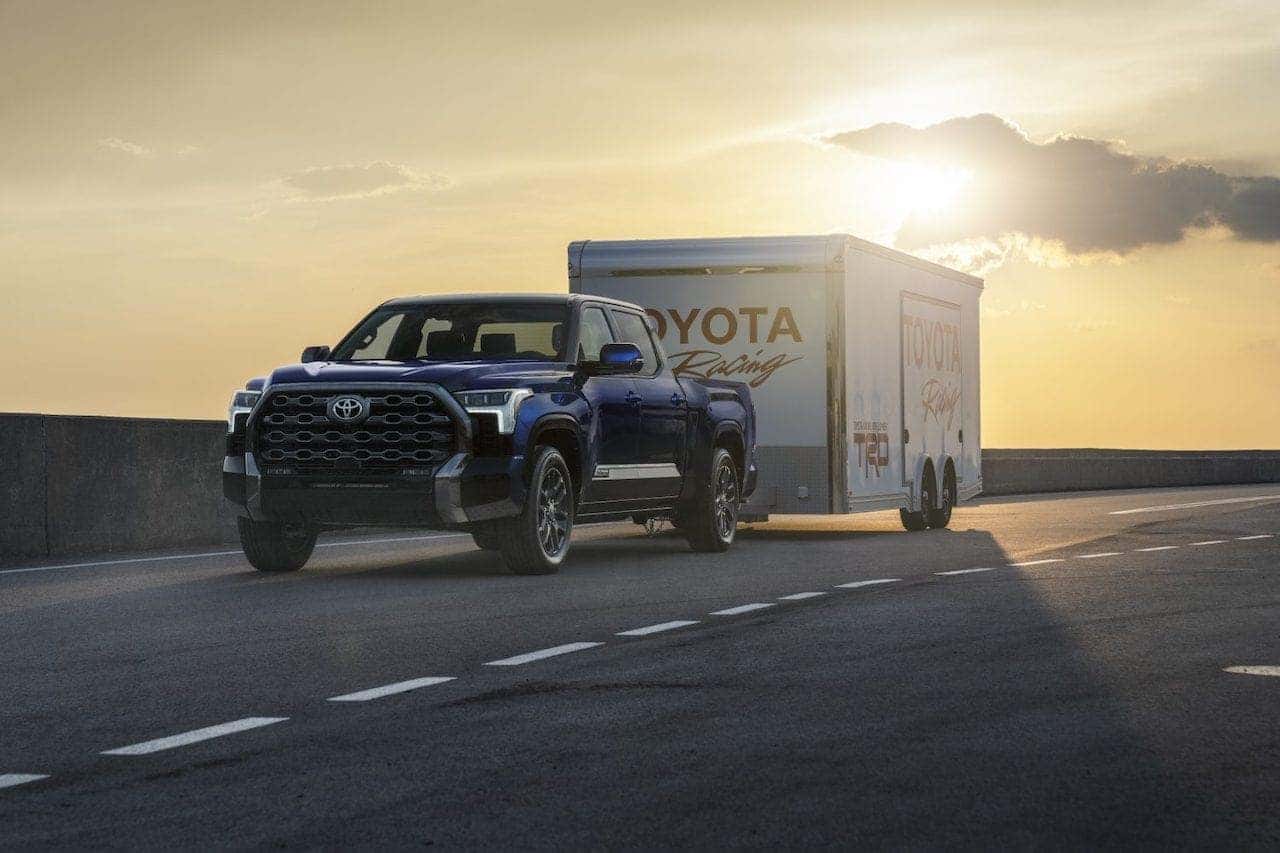 Everything you need to know about the I Force Max engine and towing capacity.
What makes the I Force max engine unique?
The I Force Max engine is a Twin-Turbo V6 with an electric motor, making it a hybrid engine that generates an impressive 437 horsepower with an outstanding 583 lb. ft of torque. The placement of the electric motor between the engine and transmission allows the power to be transferred fast and efficiently. You could feel the energy in this unique engine the second you hit your adventure, towing long hauls with instantaneous torque across the powerband.
How much can a Toyota Tundra I Force Max tow?
The 2023 Toyota Tundra I Force Max's towing capacity is 12,000 Lbs. You can tow a trailer, RV, work materials, etc. This 2023 Toyota Tundra gets the best towing weight with great power from the powertrain, frame, and suspension.
Why the Toyota Tundra is great for towing
This Clermont Toyota Tundra has advanced towing tech that works super well when hitched up. When you plug in the trailer in the available 7-pin connector, it calculates its length without any information from the driver. In addition, there are two available modes, "TOW/HAUL," which allows throttle response based on what you're towing. This 2023 Tundra can pull a lot of different weights, from small utility trailers to RVs for car camping in Clermont, FL. Tundra's equipped with all the techs and capability for every smooth towing adventure.
Other Tundra features that are great for towing and off-roading:
The

Crawl Control system helps you go on smooth and quiet rides on tough terrain through the crawl control system. It helps you automatically navigate through challenging terrain. All you need to do is press the button, and you'll be able to throttle and brake on five low-speed settings in Clermont, Florida.
The

Multi-Terrain Select

is an available system that helps regulate the wheelspin by automatically adjusting the engine throttle and traction control in your Clermont Toyota. The quick turn of the dial toggles between terrain modes: Mud, Sand, Rock, Mogul (i-FORCE only), or Auto (i-FORCE MAX only).

The

Adaptive Variable Suspension

: When towing heavy loads, it helps to have an adaptive variable suspension that can adjust to damping force based on different terrains. Whether it be potholes, bumps, or rocks, the built-in actuators in the front and rear shock absorbers are constantly refining this ride for enhanced towing stability.

Load-Leveling Rear Height Control Air Suspension:

The rear air suspension system on the 2023 Tundra automatically adjusts to the rear to keep the car leveled when hauling heavy loads. It's available on specific grades in the Tundra and lets you choose from three manual height modes: High for slow-speed, off-road driving, Low to help with loading and unloading, and Normal for everyday driving.
Test Drive a Tundra at Toyota of Clermont
You can find this at our dealership in Clermont, FL! So if you want to get your hands on the 2023 Toyota Tundra I Force Max, give us a call! See for yourself in person – visit Toyota of Clermont at 16851 State Road 50, just west of the Florida Turnpike. You can also shop online or call us for additional information at (352) 404-7000.