Electric Car Maintenance Basics
The good news is maintaining an electric car requires fewer maintenance efforts than a conventional gasoline-powered car or even hybrids. If you find yourself interested in buying the all-new Toyota Bz4x, or maybe you just bought an electric car, you may want to know the electric car maintenance basics. Toyota of Clermont experts are here to help guide you in learning everything you need to do to take care of your Electric car. 
What you need to know: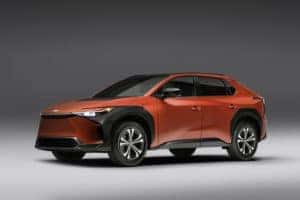 You'll never need an oil change again
Electric cars have significantly fewer parts than internal combustion engines. These motors don't require oil changes, spark plug replacement, or gas filter changes. So, you can say goodbye to many of your routine maintenance services with a new all-electric Toyota Bz4x. 
Our electric car battery
Your battery is the life source of your electric car. It's responsible for charging your car and maintaining its power. Keep your Clermont Toyota regularly plugged in to keep its battery at a state of charge between 20% and 80%. You will also need to make sure that you keep your electric car away from extreme weather conditions. For example, try not to park your car out in the hot summer sun for several hours, and don't keep your car parked out in the cold either since it will temporarily reduce its range. 
A 240-volt home charger
Make sure that your electric car is doing its best and that a proper charger is always available. So go ahead, and buy a 240-Volt home charger to maintain your Clermont Toyota's battery life and give yourself the most convenient option. 
Your electric car brakes 
The Bz4x uses regenerative braking, which uses the car moving to generate electricity to send to the battery. In addition, Toyota's all-new electric car will have a one-pedal driving feature that can be switched on and off. The brakes in an EV can last well over 100,000 miles before replacing the brakes. 
Tire maintenance 
Electric cars require your attention to care for their tires. The regular tire maintenance is pretty standard like a conventional gasoline car. Tire maintenance on your Clermont Toyota includes: regular tire rotation, checking the air pressure, and ensuring they are correctly balanced and aligned. 
Fewer fluids 
It helps when it comes to maintaining your electric Clermont Toyota that you won't have as many fluids to replace. Electric cars require fewer fluids. However, it would be best if you still kept up with your coolant, windshield wiper fluid, and brake fluid. 
Electric car warranties 
One of the main concerns of potential electric car buyers is that their car's battery replacement will be costly. The good news is that your Clermont Toyota EV will guarantee a battery warranty that lasts ten years or 620,000 miles, with a guarantee that after ten years, your battery will retain 90% of its original battery life. 
Have any questions about electric cars? Call Toyota of Clermont! 
We would love to help answer any questions you may have about cars. So give us a call at (352)404-7000. We're open seven days a week for your convenience at 16851 State Road 50 in Clermont, FL 34711.