Comparing the Toyota Corolla and Honda Civic
In a world where sedans are becoming an on-road rarity, you have to appreciate a good 4-door commuter car. The new Toyota Corolla is a compact marvel in a world where cars are only getting bigger and bigger. It's the most affordable and most practical car on Toyota's lineup and we at Toyota of Clermont absolutely love it.
But, obviously, during your car shopping journey, you're going to browse through many options and one will likely be the Honda Civic. If you're stuck between the Civic and Corolla (they both start with Cs, after all), don't fret! Toyota of Clermont is here to help you be critical when choosing between the new Toyota Corolla and the Honda Civic.

What Makes the Toyota Corolla So Good?
When it comes to the new Toyota Corolla, to say we're a little biased is a bit obvious. But, we at Toyota of Clermont are ready to present the facts to you. Here's how the Civic and the Corolla stack up in certain Clermont car categories:
Engineering
What goes on under the hood of these 2 sedans is critical to know during the shopping. This is how the Corolla and Civic compare:
The Clermont new Toyota Corolla uses a 1.8L inline 4-cylinder compared to the Civic's 2.0L inline 4-cylinder. Because the Civic uses a slightly bigger engine, drivers can take advantage of improved horsepower over the Corolla. They measure at 158 and 139 respectively.
Both engines use a 4-cylinder design so it's likely that drivers won't be able to notice a huge difference when it comes to horsepower and torque.
Both make use of variable valve timing and FWD drivetrain designs.
The Corolla and Civic both use unleaded fuel, but the Corolla does have a larger tank capacity (by almost a full gallon).
MPG ratings for both of these Clermont sedans are equal. They clock in at 30 MPG city, 38 MPG highway, and 33 combined.
For the new Toyota Corolla, a hybrid version is offered based on the LE trim grade. The Civic does not offer a hybrid version but does offer a performance grade, Type R, based on the hatchback version.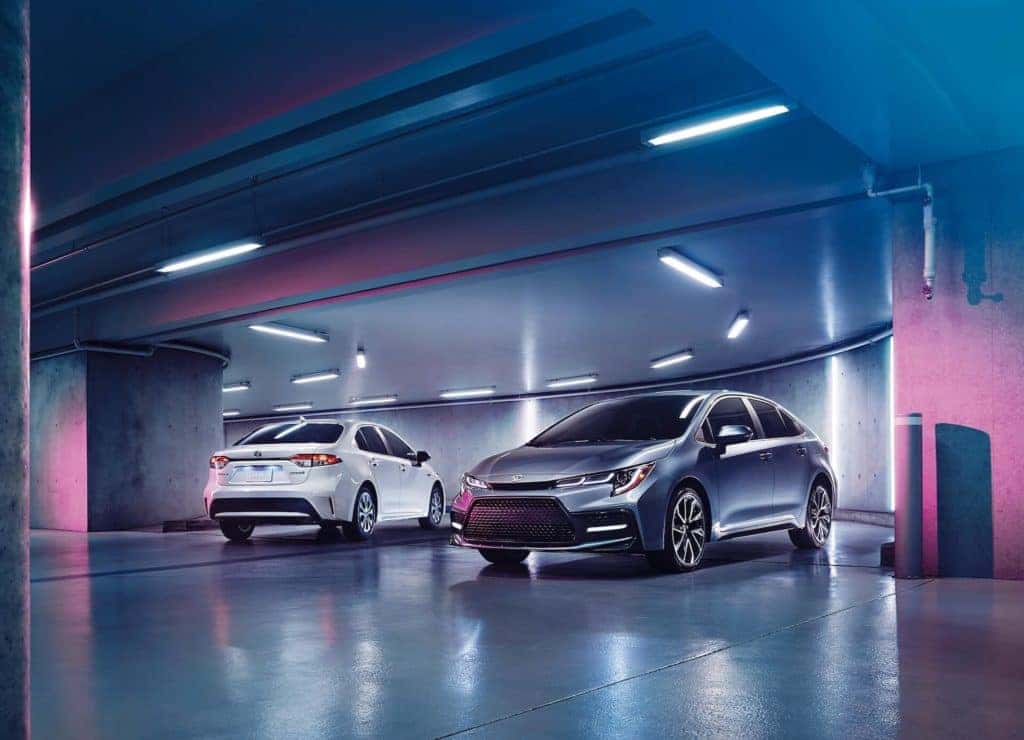 Interior
Interior comfort is something that should top your list when car shopping. This is how the Clermont new Toyota Corolla and Civic stack up:
The interior room of the Civic and Corolla are varied in many ways. Their dimensions are overall similar and share a wheelbase size, but they're stacked pretty similarly on average.
An advantage for the Corolla, a 6 speaker system is standard compared to a 4 speaker system in the Civic. Plus the Corolla has an optional sunroof while the Civic doesn't offer a sunroof at all.
The Civic one-ups the Corolla by offering an optional wireless charging pad but both include similar infotainment systems and programs.
The exterior options and body styles between the Civic and new Toyota Corolla is similar. Both have hatchback variants and other trim grade differentiators, so it really comes down to brand loyalty and style preference. One final sticking point, the MSRP of the Civic is $775 higher than the Corolla.
Ready to shop for a new Toyota Corolla today? Visit Toyota of Clermont today at 16851 State Road 50.