Check out the 2023 Toyota Corolla Infrared Edition!
If you're a fan of the Corolla family, it will be good news to hear that the all-new 2023 Corolla Hybrid LE grade is getting a price reduction of $1,250. But it doesn't stop there. The Toyota Corolla gets even more upgrades with many new features to look forward to on this model. Toyota of Clermont is here to let you know what you can look forward to on the 2023 Toyota Corolla Hybrid.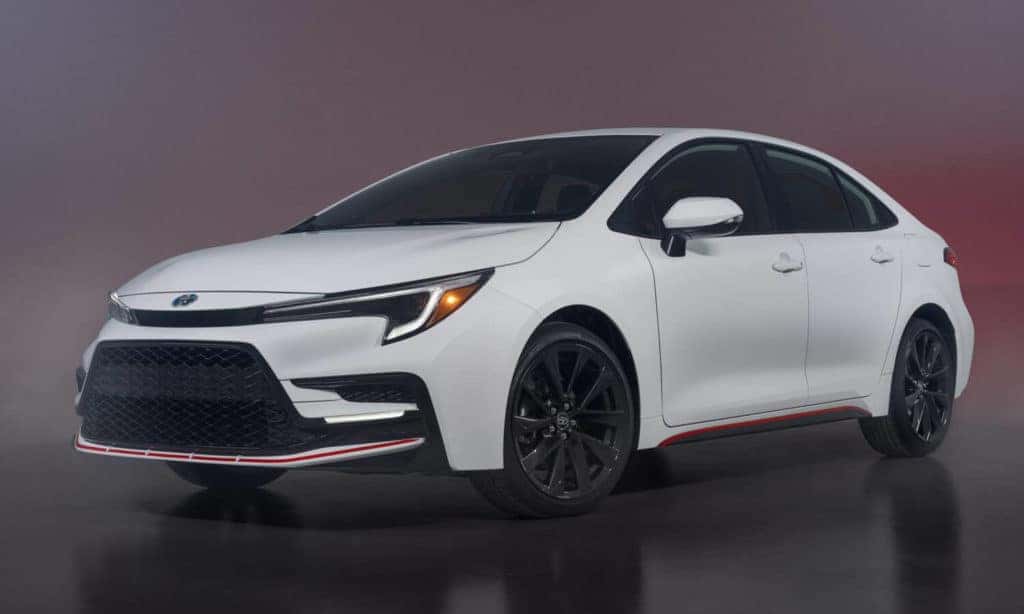 The 2023 Toyota Corolla Infrared Edition
The special edition has a unique name from the red trim accenting the exterior and interior. In addition, you can find red stitching inside the interior with a shift handle, red-accented floor mats, and door trim. This special edition SE Infrared Edition is available in both FWD and AWD versions. It also gets a SE Hybrid grade, the gas SE's sport suspension, and firmer-feel electronic power steering. The bright red stands out from the available Ice Cap, Midnight Black Metallic, or all-new Underground exterior colors and 18-inch Gloss Graphite-colored alloy wheels that are standard with the SE for 2023.
What you need to know about the Hybrid system on the 2023 Toyota Corolla
The Clermont Toyota hybrid system is a 1.8-liter Atkinson-cycle four-cylinder gas engine with two motor generators through a planetary-type continuously variable transmission. This hybrid system gets a boost from 134 hp from the previous 121 and 156 lb-ft of torque from the last 146 lb-ft. As a result, its gas mileage is efficient, with 47 miles per gallon of improved acceleration and mid-range power.
The Key Features to note on the 2023 Toyota Corolla Hybrid
The new sporty SE and premium XLE grades have been added to the 2023 Toyota Corolla Hybrid. You can also look forward to the new electronic on-demand all-wheel drive available. It gives even more power with an upgraded and revised hybrid system. The Hybrid SE infrared Edition features a unique appearance that refreshes front and rear styling. The safety tech also updates the Toyota Safety Sense 3.0 system. In addition, the new 8-in Toyota Multimedia standard will be standard on this ride.
The 2023 Corolla Hybrid offers a choice of five model grades versus just one before.

The Hybrid LE is now joined by a new LE AWD grade, sporty SE and SE AWD grades, and a premium-focused XLE.

The XLE grade is now only available as a hybrid for 2023.

All Corolla Hybrid models upgrade to the new Toyota Safety Sense 3.0 with new Proactive Driving Assist, including Obstacle Anticipation Assist and Deceleration Assist.
All 2023 Corolla Hybrid models with:
An 8-inch high-resolution touchscreen and added capabilities

Wireless Apple CarPlay® and Android Auto™ compatibility

All models add two rear-seat USB-C ports for a total of four in the car

The Sporty SE comes with: new standard Smart Key, enhanced Sport driving mode tuning, and red interior accents replacing blue.

All 2023 Corolla Hybrid models include Safety Connect and Service Connect up to 10-year trial subscriptions as an added value.
Get your hands on the 2023 Corolla at Toyota of Clermont!
Check out the 2023 Toyota Corolla Hybrid at our dealership in Clermont, FL. We're open conveniently seven days a week. Visit Toyota of Clermont at 16851 State Road 50, just west of the Florida Turnpike. You can also shop online or call us for additional information at (352) 404-7000.