Akio Toyoda Customizes the 2023 Toyota GR Corolla MORIZO Edition
The long-awaited time is over. We're welcoming the 2023 GR Corolla this year, where it will make a presence against its competitors with strong horsepower and insanely packed performance in this Clermont Toyota. When will it arrive? Well, we expect it to come this year (follow us on social media for updates). We have some even better news. If you're a GR Corolla fan, you might want to hold on tight for this one, the 2023 GR Corolla is getting a special edition, the MORIZO Edition, and our Clermont Toyota experts are here to give you the scoop on everything you need to know about it.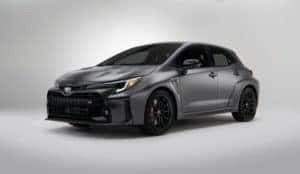 Let's take a look at the Toyota GR Corolla
The 2023 Clermont GR Corolla takes Toyota Gazoo Racing and the intensity of love for motorsports to compact them together in this exclusively manual-transmission hatchback. It comes turbocharged with 300 hp and All-Wheel-Drive. So, you might want to hold onto your horses for this one. The 2023 GR Corolla will be available later this year at Toyota of Clermont and come in two grades: Core and Circuit. However, you can also expect another special edition around, the MORIZO Edition. 
I know what you may think: the MORIZO Edition, what a name? 
You can thank the Master driver and Toyota's president Akio Toyoda for its name, the MORIZO Edition. MORIZO originated as Toyota's president, Akio's alias name when driving on speedy roads. Akio Toyoda designed the MORIZO Edition customized for his adventures with tight handling, a high power-to-weight ratio, and a rigid body. So, with a name like that, it's easy to assume this special edition will have to live up to it. With only 200 numbered units for 2023, this GR Corolla is exclusive and engineered with features to give it speed and power like never before in a Clermont Toyota GR Corolla. 
Everything you need to know about the MORIZO Edition
The significant difference in this edition was removable of the rear seats, a forged carbon-fiber roof, and forged wheels, allowing the GR Corolla's weight to decrease by nearly 100 pounds. It will be available in 200 units this upcoming year, available in the exterior colors Windchill Pearl and a MORIZO Edition exclusive all-new matte finished gray. The MSRP will be announced later this year with the expectation that this model will hit Toyota dealerships in 2023. So, let's get into some of the highlighted features. 
Features expected in the MORIZO Edition: 
MORIZO Edition gets exclusive specs:

close gear ratio transmission, shorter differential gears, forged wheels, stiffened chassis, front brake ducts, mono-tube shock absorbers, and Ultrasuede trim throughout the Clermont Toyota seats and cabin features. 

Light two seated design for faster performance

by removing the rear seats, a forged carbon-fiber roof, and forged wheels allowing the weight to decrease by nearly 100 pounds. 

GR-Four All-Wheel-Drive

with selectable 30-7-,50-50, and 60-40 front-to-rear wheel power settings for custom control. 

Torque gets an increase

just like the Core and Circuit Edition. The MORIZO Edition comes at 300 horsepower, with torque bumped up to 295 lb.-ft. Versus the 273 lb.-ft. Available in the other Clermont Toyota GR Corollas. 

18-inch forged alloy wheels with extra-wide grip

, Michelin Pilot Sport Cup 2 tires mounted with an exclusive matte black finish, and Toyota GAZOO Racing logo on the rim.

12.3-inch digital, color Multi-Information Display

which runs in the Core and Circuit Edition as well. 

Toyota's Safety Sense 3.0 with the best safety features available.
When can you get your hands on this MORIZO special edition GR Corolla in Clermont, FL? 
Stay Tuned to our Social Media accounts for the all-new 2023 GR Corolla! Since there are only 200 units being produced, you should keep an intense eye out for this model! However, we expect the 2023 GR Corolla to come out later this year. Don't forget, you can call us for updates seven days a week at (352) 404-7000, or follow us on social media for more information! We're located at 16851 State Road 50, just west of the Florida Turnpike.