The Toyota Mirai and an 845-Mile World Record
It's a well-known fact that Toyota stays breaking and making records. Sounds a little presumptuous and conceited, but you've gotta own it when you can. The Land Cruiser has climbed the unclimbable, the Camry continues to take trophies in road races, and the Supra is a cemented icon in the halls of history. But, naturally, we couldn't just stop there and be content with what we've achieved so far. It seemed only fitting that the Toyota Mirai, already being one of the world's first produced hydrogen fuel cell vehicles, should make its mark on the world by means other than engineering and specs.
The Mirai is in its second generation currently and it just earned a world record for an incredible feat. We have the latest on this story and more about the Mirai at Toyota of Clermont. Follow along with us!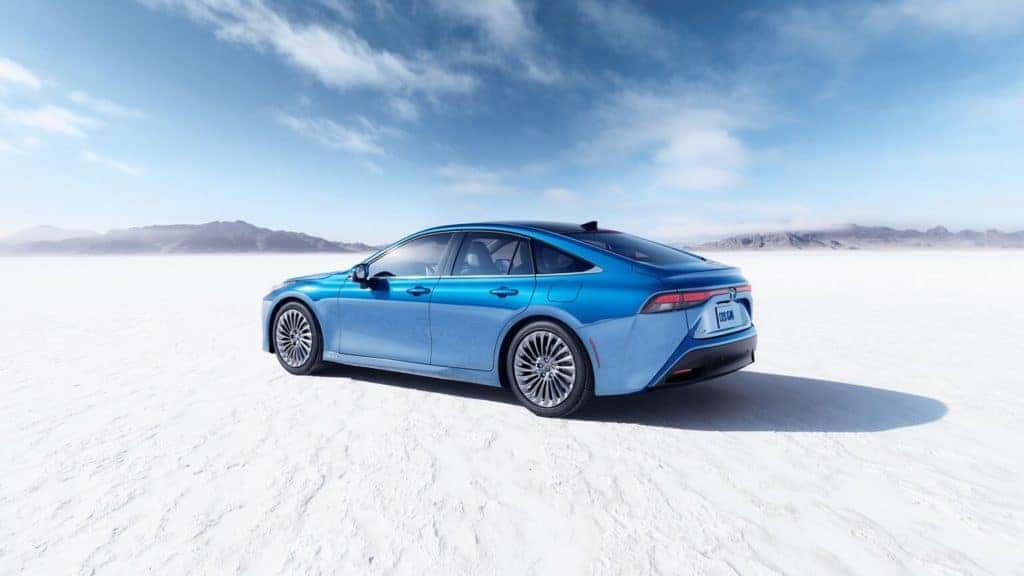 A World Record for the Toyota Mirai
As we said, the Mirai has already garnered an impressive accolade of being one of the first mass-production hydrogen fuel cell vehicles out there. Unfortunately, it's not widely available in the Clermont area yet, but we can't wait for it to be. Especially hearing this news, we're ecstatic.
The Mirai accomplished something an ICE engine could only dream of. It drove 845 miles. Without a single refueling along the way. We know. Impressive. Here's some more info on this amazing story:
The Clermont Toyota Mirai was piloted by 2 people, Wayne Gerdes and Bob Winger, over the course of 2 days in an official attempt. This was not an amateur attempt to break a world record, this was an all-in attempt by pros.
Their journey began at the Toyota Technical Center in California and the pair managed to log 473 miles in a single day.
The next day they returned to the Technical Center and logged an additional 372 miles for a total of 845.
About 5.65 kilograms (12.45 pounds) of fuel was consumed during the journey and there was never a need to refuel even though 12 fueling stations were passed along the way.
Such an impressive feat for an impressive ride. The Mirai now has a Guinness World Record to add to its ongoing accolades and it's just getting started.
A Deeper Look at the Record-Breaking Toyota Mirai
The Clermont Mirai is one of the only mass-produced hydrogen fuel cell vehicles on the road. Because of the currently limited fueling infrastructure, Toyota only sells the Mirai in California where there is a substantial number of hydrogen fueling stations. Here are some quick facts about this awesome ride:
The Mirai gets an estimated 74 combined MPGe and has an estimated range of 402 miles. As to how 845 was achieved without any refueling, that definitely warrants some digging.
Zero emissions are emitted from the vehicle as it uses hydrogen fuel cells for power.
Refueling only takes about 5 minutes from an empty to full tank and Toyota is even offering a $15,000 free fuel incentive to new Mirai drivers.
It's technologically advanced and now is sporting incredible style.
Pretty cool, right? For more info on the Toyota Mirai and the latest Toyota news, keep it here with Toyota of Clermont! You can find us at 16851 State Road 50. See you next time!