The New Toyota Mirai is Getting a New Look for 2021
Throughout the company's history, Toyota has been making waves in the automotive industry. Apart from unique designs and excellent engineering, Toyota has always been an auto manufacturer at the forefront of new technology. Today, that new technology is coming in the form of autonomous vehicle technology and new fueling sources. When Toyota introduced the revolutionary Prius back in 1997, it changed the automotive world forever by introducing electrified engineering to better fuel efficiency. Toyota has made their mark on the alternative fuel landscape by introducing hydrogen fueling in the form of the new Toyota Mirai. This revolutionary vehicle, released in 2015, has introduced an all-new way to fuel your vehicle with little to no negative impact on the environment. While fueling stations have yet to make their way to Clermont (we can only hope and dream), we believe that it's helpful to see where Toyota is going with the future of automotive.
The Toyota Mirai has been available from dealership in metropolitan areas of California and Hawaii since 2015 and now it's time for a new generation. Toyota recently announced the arrival of the second generation new Toyota Mirai and there are some big changes coming. Check out the latest details here from Toyota of Clermont.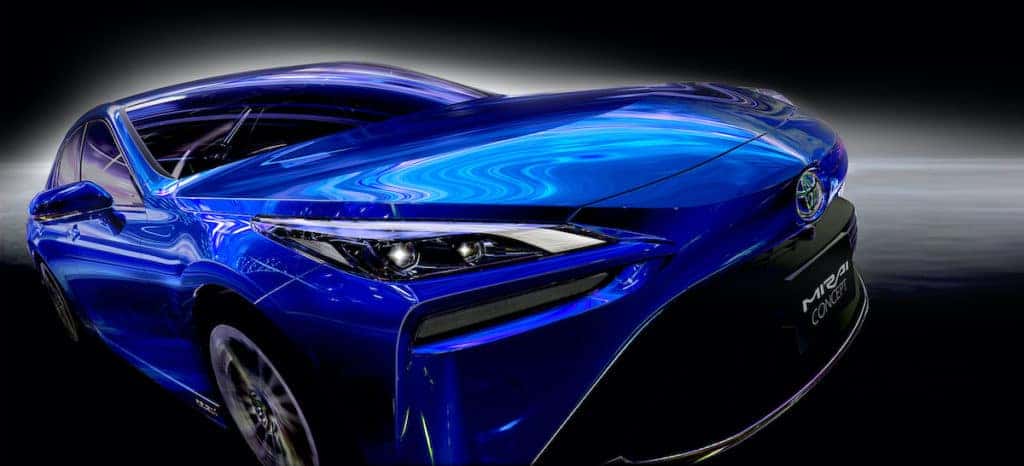 A New Revolution for the Revolutionary Toyota Mirai
Granted, the Toyota Mirai likely won't be available at Toyota of Clermont until hydrogen fueling stations make their way east, we're still excited to see what's new with the next generation of this iconic vehicle. Here's what you can expect to see:
To start things off, the Clermont new Toyota Mirai looks A LOT different from its predecessor. In fact, the entire body design has been reconfigured and reimagined with inspiration from sporty coupes. The second generation Mirai is wider and longer and sports more interior space, seating up to five people.
The Mirai also changes things up with its change in drivetrain from front wheel to rear wheel drive. Drivers will experience a huge difference in where they feel power at the push of the pedal.
With such an overhaul exterior redesign, you bet that the interior has been reconfigured with some awesome upgrades. The Clermont new Toyota Mirai will sport superior cabin noise cancelling along new technology features like an 8-inch touchscreen combination meter, an optional digital rearview mirror, a 12.3-inch infotainment touchscreen, and a 14-speaker JBL sound system.
The second generation Mirai can go farther than it's ancestor with a larger fuel tank and more efficient engineering. Toyota plans to obtain a 30% increase from the previous model year.
20-inch alloy wheels are an available option for 2021 Mirai.
For the 2021 model year, the Clermont new Toyota Mirai is slated to be released later next year. Like we said, until we have the fueling technology to support Mirai drivers, this vehicle, sadly, won't be available at our dealership. But, you can always shop Toyota's excellent selection of fuel-efficient vehicles today at Toyota of Clermont! We're open seven days a week and located at 16851 State Road 50.