How to Use Your Toyota Drive Modes
Getting behind the wheel used to be so simple. Get in the driver's seat, turn the key in the ignition, put it in drive, and go. If you drove or drive a manual, then it's a little more detailed than that. But, you get the idea. Driving, at a glance, is a pretty straightforward process that involves a wheel and pedal. However, just like cars have changed drastically over the years, so has the technology that powers them and gets them moving. Many Clermont Toyota vehicles come equipped with various drive modes that change the handling and responsiveness of the engine while you drive.
If this is all sounding new to you or you want to know more about how drive modes work, you're in luck! Toyota of Clermont is here with an easy guide on how these helpful tools work.
What Exactly Are Drive Modes?
Drive modes are different than transmission gears. Essentially, they're modes activated via switch that change how your Clermont Toyota engine responds and drives. This doesn't change the engine too drastically, but just enough to notice when you're commuting. It allows drivers to tailor their driving experience. The most common that many Toyota vehicles are equipped with are Normal, ECO, Sport, and EV if you drive a hybrid.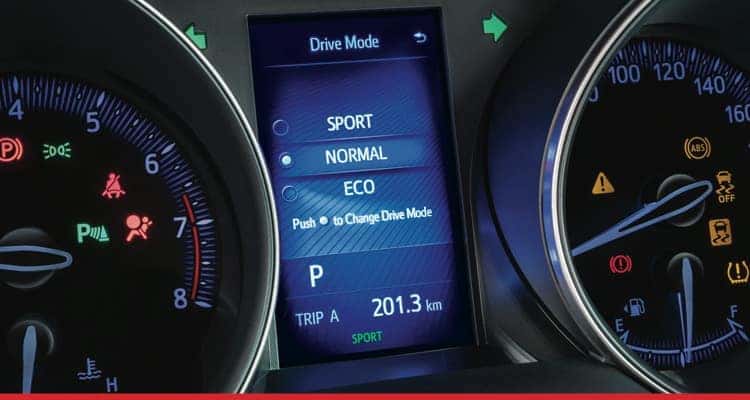 Different Types and What They Do
Normal
This driving mode is pretty self-explanatory. With no other drive modes active, your vehicle drives in Normal. This will provide drivers with promised horsepower, torque, and power with no adjustments.
ECO
Fuel efficiency is the objective when driving in ECO mode. This drive mode slows your throttle, adjust the climate control, and the amount of work your engine is exerting.
Sport
Sport mode optimizes the engine to improve the response from your engine when pressing the gas pedal. It can also create more tension in your power steering and shifting cleaner. Overall, this Clermont Toyota drive mode provides a sportier experience to your vehicle when active.
Snow
Some vehicles, if they're equipped with AWD or 4WD, will have a snow mode that makes it easier to grip the road during icy conditions. When active, this modes eases the amount of torque that your vehicle outputs to provide better grip and traction control.
EV
While Toyota doesn't produce any strictly electric powered vehicles, we do have several hybrid and plug-in hybrid models on our lot. These Clermont Toyota vehicles are often equipped with an EV drive mode that allows you to drive them using only electricity for a short period of time. Drivers can take advantage of this mode when traveling short distances or at lower speeds.
If you're anxious to see what different drive modes can do for your driving experience, swing by Toyota of Clermont. Many of the vehicles on our lot are equipped with different modes to enhance your experience from behind the wheel. Check them all out today at 16851 State Road 50. We're open seven days a week and you can shop our total inventory online anytime!