How to Tell if a Used Car Has Accident Damage
With yet another article about the risks of purchasing a used car, you might be getting the impression that we have something against them. Actually, we love pre-owned vehicles and always encourage our many guests to shop for one! It's the easiest and most cost-effective way to get behind the wheel of a ride you love and you can avoid the harshest parts of vehicle depreciation. Toyota also makes Clermont used car shopping easy through its Toyota Certified Used Vehicle program that ensures every pre-owned vehicle is quality checked and largely damage free. But not every car meets that standard and that's why you need to be careful when shopping for a used vehicle.
There are measures in place, like vehicle history reports and lemon laws, that protect consumers from spending their hard-earned money on a vehicle that's been compromised. However, there's still the possibility of unknowingly purchasing a vehicle that has accident damage. We at Toyota of Clermont are here with some tips to help you spot hidden or covered up damage on a used vehicle so you can shop smart and safe.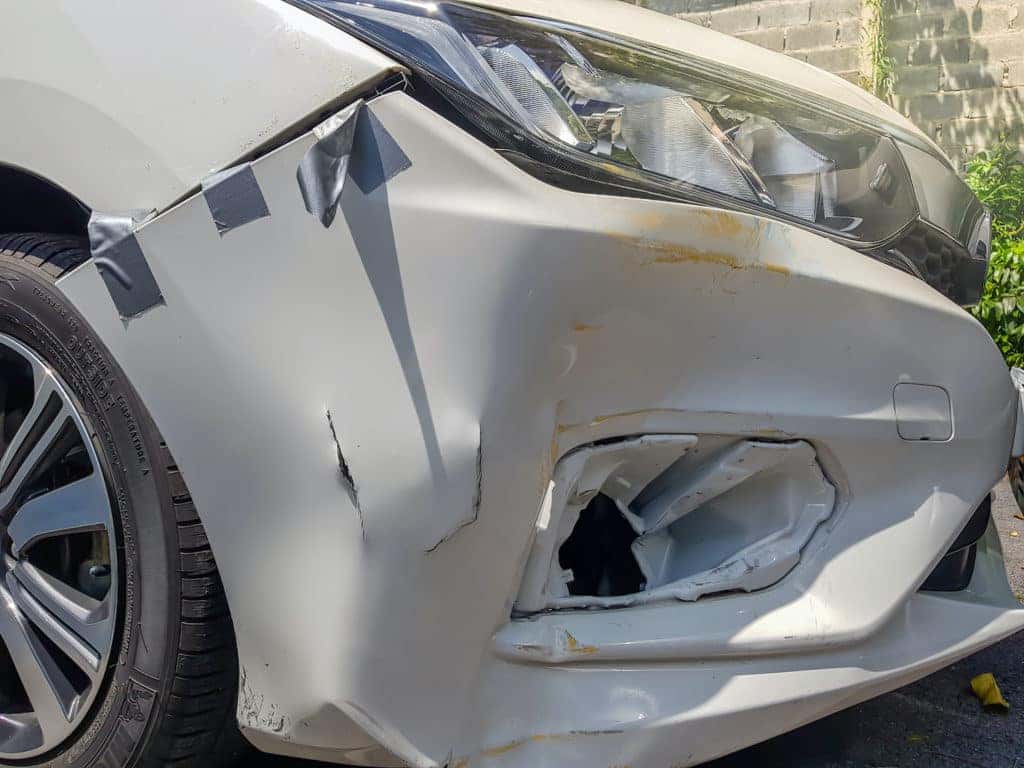 Spotting Hidden Accident Damage on a Used Car
Mismatched or Misplaced Paint
For your Clermont vehicle to be properly painted the bulk of the engine block and interior needs to be removed to ensure a uniform color throughout. In the event of an accident paint can be scraped away and damaged. People trying to unload a damaged used car will often cover up the damage with a hasty mismatched paint job rather than having it done professionally. If you see different paint colors on the vehicle or patches of color that don't quite match the overall color, then you should consider a different ride.
Misaligned Body Pieces
New vehicles are meticulously crafted using accurate machines and skilled professionals and they should be perfectly aligned and shapely when you drive it off the lot. A damaged Clermont used car could have a slightly askew bumper or a door that doesn't close just right or a trunk lid that looks a little lopsided. These misaligned imperfections can spell trouble and are a sure sign of damage.
Bondo Body Work
Bondo is a type of vehicle body filler that's used to patch up accident damage before being repainted. It's used often in a professional setting for a nice and clean look, but can make a bad damage coverup look more obvious. Be sure to meticulously check each panel and body piece for uneven textures or raised surfaces under the paint.
A Cracked Windshield
Windshield cracks and dents happen to all of us, but your Clermont used car should be spotless before you sign on the dotted line. Depending on the type of crack or ding it could mean that the vehicle's glass was never repaired or the frame is misaligned.
Missing Screws and Fasteners
You wheel weld is probably the last place you'd think to check for used car accident damage, but it's one of the most obvious spots for spotting damage. If you notice a missing screw or fastener from this area it could mean that the bumper has been removed at home point in time or the wheel weld was compromised. Either way, find a different car.
Shopping for a quality used car doesn't have to be complicated. Let us help you out at Toyota of Clermont! We're open for seven days a week at 16851 State Road 50 and have a great stock of quality pre-owned cars.