How To Check For Car Blind Spots
When you first start to drive in any car, whether it's your grandma's old car or your brand new Clermont Toyota, a blind spot is a term that comes up quite often. You might have heard it from a parent or driving instructor after mentioning to be aware of them. Blind spots are frustrating, and if you aren't sure where they are, you could accidentally hit the car near you. Toyota of Clermont experts will be covering everything you need to know about blind spots, from what is a blind spot, how to check for them, to navigating around them.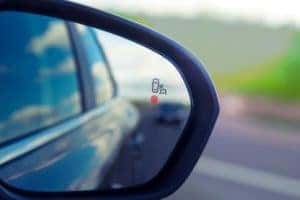 So, what is a car blind spot? 
A car blind spot is an area blocked by the exterior or interior of your Clermont Toyota while driving in your car. It could be located as you're looking ahead or checking your mirrors. Every vehicle has its car blind spots, so it's critical to know where your car blind spots are in your specific car model to ensure safe driving.  
Common places car blind spots are located: 
In the front view of your car

In the rear view area of your car

On the sides of your car

Behind the windshield pillars of your car

Cargo areas, headrests, etc. 
Ways to check for your car's blind spots
1. Check for a blind spot by using the "Shoulder Check" in your Clermont Toyota.
This can be done by performing a shoulder check by looking left and right, looking out of your side windows, and just over your shoulder. The key is only to turn your head and avoid turning your steering wheel. This will ensure you don't miss out on seeing something when you're about to take a turn.
2. 
Check the inside of your car for anything blocking your view.
Make sure there's nothing inside your car obstructs your view, like a filled-up cargo space or headrests. 
3. Take advantage of blind spot Monitors.
Many new Clermont Toyota cars have Toyota Safety Sense which comes with many different safety features, one being blind-spot monitors. These features can help detect vehicles entering your blind spots, issuing both a visual and an audible warning. 
How to navigate around blind spots? 
Use defensive driving skills at all times. 

Use your turn signals 100 feet ahead of the turn and as often as possible to help signal other drivers on the road.

Try not to rely on your mirrors. Instead, look out of your side windows to check for cars near your Clermont Toyota.

Make sure your mirrors are positioned correctly so you can see your surroundings as much as possible. 
Shop and buy car blind spot accessories at Toyota of Clermont today!
Do you need to shop for car care accessories like car blind spot mirrors? Call Toyota of Clermont today at (352) 404-7000 or stop by 16851 State Road 50, just west of the Florida Turnpike. We're open seven days a week for your convenience.