Toyota of Clermont tips for detailing your car interior
Gum wrappers and food falling between the seats, dirt from your shoes getting into the floor mats, spilled coffee on your center console, or whatever it may be, your Clermont Toyota car interior takes a lot of punishment over time. Keeping it clean can be a bother, especially when the mess has piled up for so long but, maintaining a clean interior after a good detailing is a lot easier than you think. If you're unsure about how to detail your car interior, have no fear, Toyota of Clermont is here with an easy guide to cleaning your interior.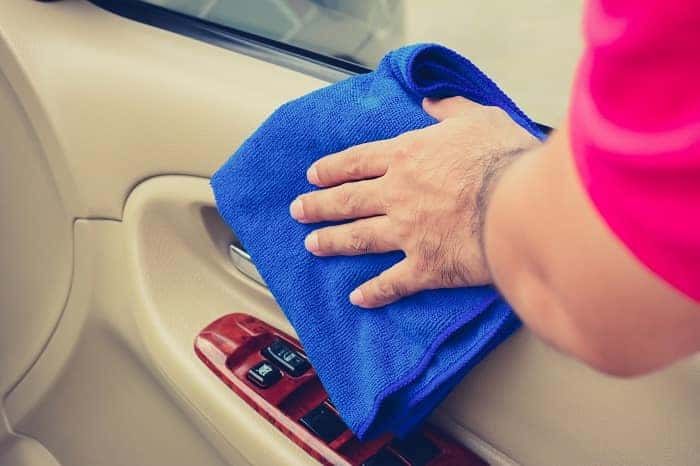 A few easy steps for a spotless car interior
Step 1) Get your tools together.
If you want to detail your car interior properly, you're going to need the right tools. Surface specific cleaners, a vacuum cleaner, brushes and cloths, and plenty of space are just a few things you'll need. Having these together will help speed up the cleaning process and give you an ideal detailing.
Step 2) Have a game plan.
While it may seem like a good idea to dive headfirst into your car detailing, we at Toyota of Clermont recommend that you have a plan of attack to efficiently clean your car interior. Always start up high, meaning wipe down the windshield, the dashboard, and air conditioning vents before moving on to the center console, seats, and carpet. This will keep dust and other debris from getting on areas you've already cleaned.
Step 3) Start cleaning!
Now that you have a plan in mind and the right tools, it's time to start cleaning! Start by using a glass cleaner and microfiber cloth to clean the interior sides of your windows and windshield. From there, use an all-purpose cleaner and/or conditioner to wipe your dashboard and plastic parts near the infotainment system and air conditioning cluster. Make sure to avoid using a seat cleaner for these parts because you could wind up staining these parts or leaving yourself with another thing to clean.
Perhaps the most difficult parts to clean when detailing your Clermont Toyota car interior are the seats. Getting down in the nooks and crannies can prove challenging, but this will keep you from finding hidden surprise messes later. Depending on the material your car seats are made of, you'll have to use specific cleaners to get the optimal detailing you're looking for. If your seats are made of leather, use a leather cleaner with an added conditioner to better preserve the clean and the material itself over time.
Vacuuming your Clermont Toyota car interior can be tricky when trying to get to all the spaces under and between your seats. Remove your floor mats before starting to vacuum and clean them outside of your Clermont Toyota. Move your seats forward and backward for easy access and use the brush and narrow nozzle attachments on your vacuum to get into those hard to reach areas. If you're finding stains on your Clermont Toyota car interior carpet, you might want to think about renting a foaming carpet cleaner. This will give your carpet a deep clean and get rid of any stains you may find.
Step 4) Eliminate odors.
If your car interior has been messy for an extended period, odors can appear and persist if left unchecked. Before you use an odor remover or air freshener, be sure to find where the smell is coming from. It could be something that's been dropped in your Clermont Toyota somewhere or even bacteria or mold in the air conditioning vents. If you're having trouble finding the source of the odor, our auto service techs at Toyota of Clermont would be happy to help you!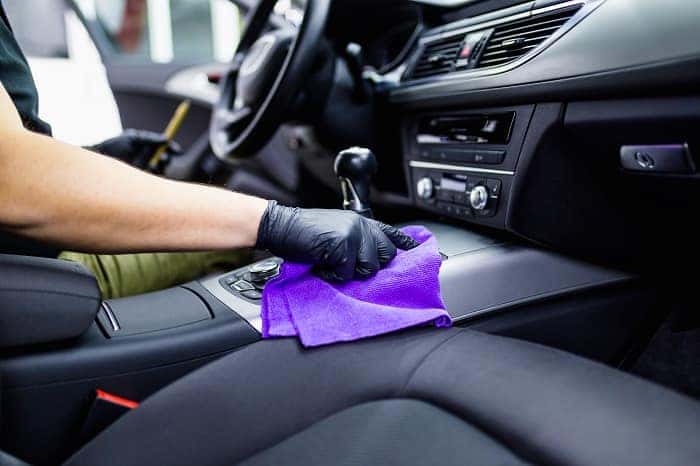 Your car interior needs met at Toyota of Clermont
Detailing your car interior can be rewarding, but also challenging and time consuming. If you still have questions about what to use to get the job done or can't find the time to do it, Toyota of Clermont is here to help! Our auto parts department has a great selection of detailing products and our expert auto service techs can clean your interior for you during your next oil change or tire rotation. Call us at (352) 404 – 7000 to schedule an appointment today!