What to do if something gets stuck underneath your car? Experts answer.
Oops, so you might hear something dragging as soon as you reverse. And usually, that can cause some alarm because, let's be honest, car noises can come from several different things, and it can be hard to detect which one. This scenario can happen with many Clermont Toyota models. So our experts here at Toyota of Clermont will go over some steps to help guide you through removing whatever is stuck underneath your Clermont Toyota.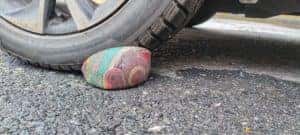 Common items that get stuck underneath your car
Sports balls: kickball, basketball, soccer ball, baseball, tennis ball, anything you can think of really! 

Plastic shields that are designed to make the underside of your car more aerodynamic.

Plastic bags that get blown under your car.

Exhausted heat shields that hang low are rusting.

Skid plate, sometimes the bolts come loose, and it can cause it to drag along the road, making an unusual sound. 
Step #1 Turn your car off
It's best if you park your car and turn it off! If you don't turn it off, you may encounter some pretty hot aspects of your Clermont Toyota that could burn you. 
Step #2: Check underneath your car
Look underneath your Clermont Toyota and check if there's something underneath there. You may not be entirely sure where the sound is coming from, so if you can visually see anything that may be handing down, there's your culprit. 
Step #3 Determine what is under your car 
To figure out how you should remove the item from underneath your car, you will have to determine what it is. If you don't know what it is, fear not. It's best not to mess with it too much and get your car to a service center as soon as possible. 
Step #4 Get it out from under your car
If you think that you should be able to get it from underneath your car, make sure your car is still turned off and grab a tool to remove it carefully. If it's a ball, you may want to puncture it to get it out without bumping things around. 
Step #5 Take it to be looked at by an expert
Ensure that an expert technician looks at your car to ensure everything is in place and didn't get bumped around. It's best to go as soon as possible. Luckily, you can take your Clermont Toyota car to our service center, and we will have it fixed and ready to go in no time. 
Take your car in to be serviced at Toyota of Clermont, so you no longer have to deal with something stuck underneath your car!
We would love to help you answer any questions you may have about your Clermont Toyota getting something stuck underneath your car. So give us a call at (352)404-7000. We're located just off the Florida Turnpike at 16851 State Road 50 Clermont, FL, 34711.