Wiping Away the Rainy Season – Tips on Car Wiper Blades From Toyota of Clermont
It's rainy season in Central Florida and that means having the most reliable pair of car wiper blades for your vehicle is key to safe summer driving. Whether it's a pop-up storm cloud or day-long thunderstorm, maintaining optimum driving visibility means knowing when your wiper blades need a replacement, and Toyota of Clermont is happy to help!
While car wiper blades aren't the most glamorous of car fixings, maintenance of your blades will keep you and your passengers safe while you travel this summer. Not sure how to troubleshoot? Look at the rubber! Over time, wear and tear can cause the lining of the car wiper blades to crack and split. If the streaks and lines on your windshield are starting to annoy you, chances are your car wiper blades are too dirty and you might be overdue for a new pair.
Other signs of car wiper damage include:
Loud grinding noises

Bent frames

Windshield grime and dirt left on the glass

The inability for your blades to reach their full resting position in between wipes.
If you need help identifying other worrisome signs, contact one of our Toyota of Clermont auto service techs for assistance!
What are the different types of car wiper blades?
Our Toyota of Clermont store offers a variety of car wiper blades to suit your very specific needs. Some of our options include:
Traditional frame-style wipers
Traditional car wiper blades usually have metal framing and a backed-strip made of halogen-hardened rubber or squeegee rubber. These are the most common windshield wipers because of their affordability.
Winter wipers
Winter wipers provide optimal functionality for harsh weather conditions like ice and snow. These blades carry a rubber shell which allows the wiper framing to remain untouched by these conditions. You won't see many of these in Central Florida.
Beam-style wipers
Beam-style wiper blades are made of a solid piece of rubber. Providing a multitude of pressure points and flat design, these car wiper blades hug your Toyota of Clermont vehicle for maximum visibility efficiency. These are usually the most expensive, but maintain a higher life-span and provide the most sleek design.
Now that you've figured out which car wiper blades suit your specific needs, you might be wondering where to begin the purchasing and installation process. Make sure to check your car's manual to identify the right wiper blade size for your vehicle or contact an auto service expert at our Clermont location.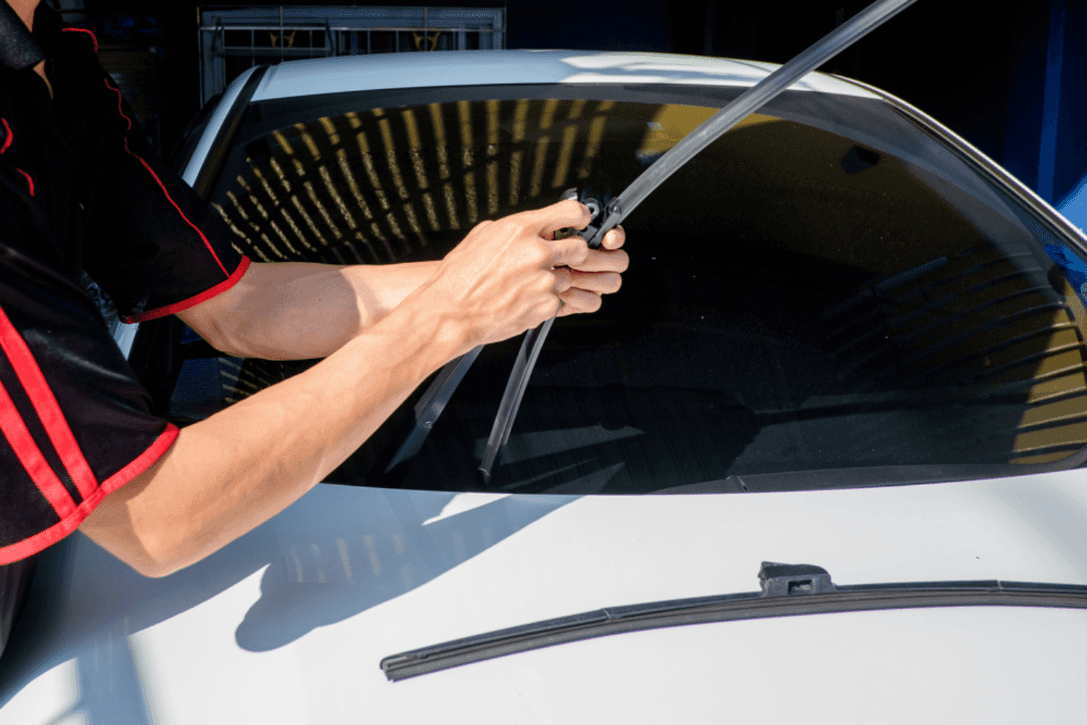 After you've chosen the right blade for your vehicle, here are some tips on installing and maintaining your blades for a maximum lifespan:
Remembering to check and replace your blades may often skip your mind, but one way to alleviate that problem is by keeping tabs on your wiper look during your monthly car maintenance checks. When in doubt, check your blades every six months and change them once every year.

Make sure to install your wiper blades in pairs. It could be quite troublesome to remember how old each individual blade is at the end of every year. Replace them at the same time for optimal performance.

Gently wipe your car blades with a squeegee to remove any loose dirt, oil or debris from the rubber to increase longevity.

To install your wipers, follow the instructions provided on the back of the packaging. When in doubt, contact the Toyota of Clermont auto service team for help!
Streaky, noisy, grimey blades? Toyota of Clermont can help!
If you have any questions or concerns, we've got your back! Our friendly, highly- trained auto service techs at Toyota of Clermont are eager to help you with your new blades at a price you'll love. Call us at (352) 404-7000 to speak with a representative and schedule an appointment today!