Hit the Trails With the All-new 2019 TRD PRO Package
Are you a seasoned off-road adventurer? If so, we have some big news for you. Toyota has officially released the details of the newly upgraded 2019 TRD Pro Series package. Clermont Toyota trailblazers will soon be able to benefit from this package in next-generation Toyota trucks such as the Toyota 4Runner, Toyota Tacoma, and Toyota Tundra. Keep reading to find out how the masterminds of the Toyota Racing Development took the already heart-pounding, adrenaline pumping features of the TRD Pro series package and amplified them for maximum thrills.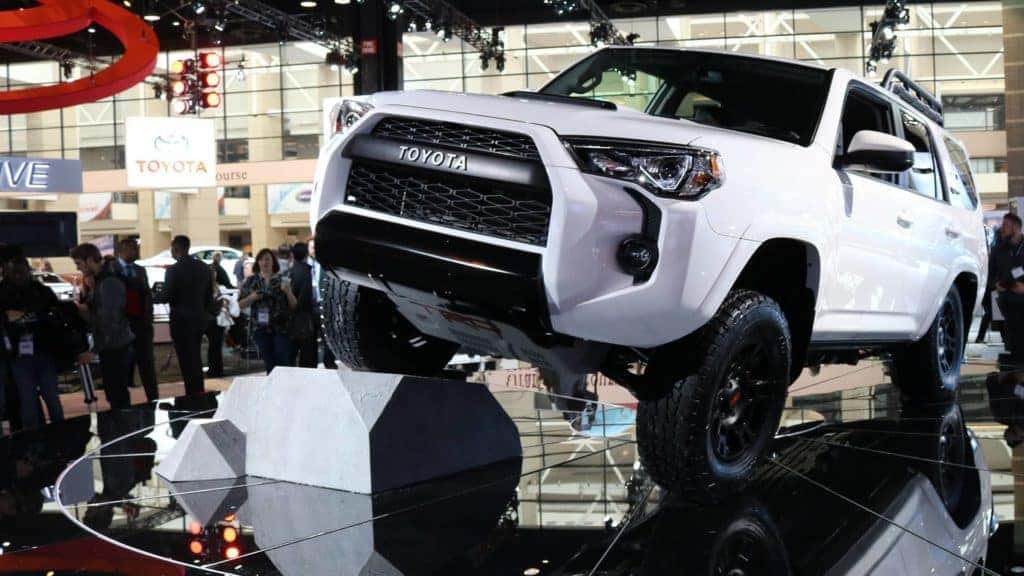 Set to hit the market in the fall of 2018, Toyota's new TRD Pro lineup will prepare 2019's Toyota trucks for another year of trail-blazing success. The newest editions of the 4Runner and Tundra will feature brand new Fox shocks while the Tacoma will be equipped with an all-new TRD Desert Air Intake. On top of the newly designed Fox shocks, all trucks equipped with the package will boast the latest in off-roading technology to get backroad adventurers through their most daring of voyages.
Take a look at some of the features that are pumping up our Clermont techs the most!
Toyota trucks revamped and more trail-ready than ever!
The Tacoma TRD Pro:
Your jaw will drop when you catch sight of the upgrades the new Tacoma TRD Pro series is sporting. From a factory-installed snorkel to model-specific tires, check out these incredible features:
A brand new TRD Desert Air Intake (snorkel mentioned above)
Frontal anti-roll bar
TRD-tuned springs with an additional inch of lift
TRD pro badged interior with leather-trimmed interior and seating
Black chrome exhaust tips
5" Fox shocks
46 mm pistons for better damping capabilities
All-new front skid plate
Pro black 16 inch alloy wheels with 1 inch wider track and Kevlar all terrain tires
Premium JBL audio system equipped with Entune Premium and subwoofer and amp
Aggressive new black grille
Projector-beam headlights
LED daytime running lights and taillights
The Tundra TRD Pro:
This redesigned Clermont Toyota Truck will leave you speechless when you see the serious upgrades it's rocking:
5-inch Fox internal bypass shock absorbers
Rear leaf springs
Extra 2 inches with lifted suspension
Quarter inch skid plates
Black accented LED headlights and fog lights
Electronically powered moonroof
Freshly designed hood scoop and black grille
Red stitching added to a new dark and mysterious interior
Interior and exterior TRD Pro badging
The 4Runnner TRD Pro:
Just because the 4Runner doesn't belong in the Clermont Toyota truck family doesn't mean that its TRD Pro series makeover isn't something to get excited about. Check out these new off-roading features:
5-inch Fox internal bypass shocks
All-new roof racks
Completely black front grille
Fox tuned frontal springs with extra inch of lift
LED headlights and fog lights
Audio system with premium Entune and integrated navigation
Dark leather interior adorned with red stitching
TRD Pro badging interior and exterior
Not to mention each TRD Pro model benefits from model-specific touches for ultimate customization, like their own specific set of tires: Michelins for the Tundra, Nittos for the 4Runner, and Goodyears for the Tacoma.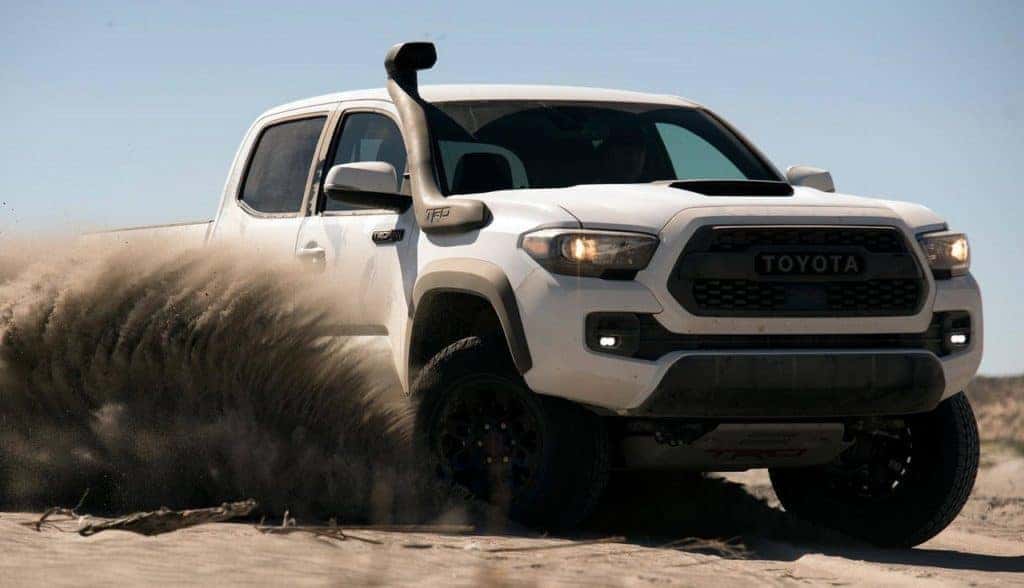 Take a test drive at Toyota of Clermont
While you anxiously await the TRD Pro series Clermont launch date, stop by our dealership and familiarize yourself with the already incredible 2018 TRD Pro series family. We are located at 16851 State Road 50 and are open seven days a week. Schedule your test drive today!