A guide on flex fuel technology
For the future of the automobile industry, fuel efficiency is the name of the game. While some Clermont Toyota drivers like fuel conscious vehicles for money they save or for their lessened environmental impact, fuel efficiency remains an important engineering feature for vehicle buyers at large. One feature of fuel efficiency that many drivers may be familiar with, but not really know about, is flex fuel. This feature of fuel saving technology is equipped on several different types of Clermont Toyota vehicles to help boost fuel economy and improve engine operation efficiency. If you're curious about this feature, then check out this guide from Toyota of Clermont!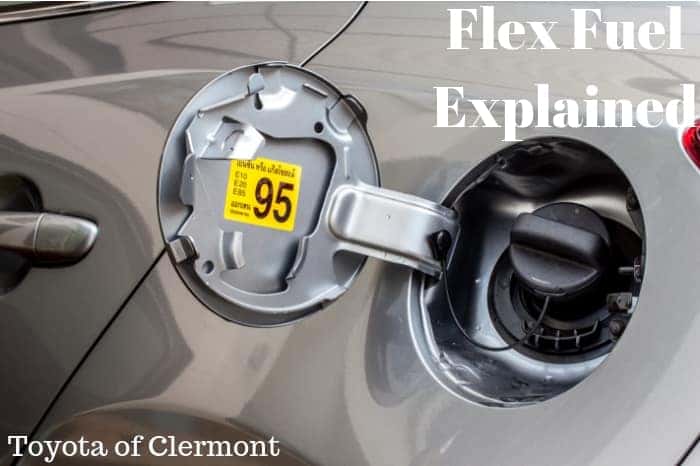 Technology just got a little more efficient
As the automotive industry moves toward a future that's more fuel efficient, various types of technology are being equipped on a variety of Clermont Toyota vehicles. However, flex fuel is a feature that's unique in the way it processes gasoline and different fuel types. This type of fuel saving technology still relies on a traditional internal combustion engine rather than using alternative engines like hybrid and electric. Instead, flex fuel uses a different type of fuel tank technology that allows vehicles to process blended gasoline and fuel types. The most common blend types consist of ethanol or methanol and the engine processes these fuel types differently using a fuel composition sensor. Some fuel efficiency equipped Clermont Toyota vehicles using flex fuel can run on other fuels like compressed natural gas, liquefied petroleum gas, or hydrogen.
Flex fuel is a common and easily accessed fuel efficiency technology, but other forms of fuel saving technology can be used on several Clermont Toyota vehicles that reduce emissions and get you more for your dollar at the pump. Here are a few fuel efficiency technology features you'll find on several Clermont Toyota vehicles:
ECO driving modes for fuel conscious acceleration and shifting throughout your drive to save on fuel.
Hybrid engines on Clermont Toyota models like the Toyota RAV4, Highlander, Camry, and Avalon. This fuel efficiency engine type uses partial electric engineering to use gasoline when operating at slower speeds.
Hydrogen fuel cell is a new type of fuel efficiency technology that's currently only available in the Clermont Toyota Mirai. This type of engineering uses hydrogen as its only fuel source and only produces water as a byproduct. Hydrogen fuel cell engines can run just as efficiently, if not better than internal combustion engines. Unfortunately, hydrogen fill stations are limited to the California area and it's uncertain when this technology will be available in the Clermont area.
All new body designs for vehicles like the Toyota Corolla Hatchback, Avalon, Yaris, and Prius models for upgraded fuel efficiency in addition to their mechanical engineering.
Explore fuel efficient technology at Toyota of Clermont
If you're looking for a vehicle that can get you more for your dollar at the pump or reduce your environmental impact, then check out our inventory of fuel-efficient vehicles at Toyota of Clermont! We're open seven days a week and located at 16851 State Road 50, just off the Florida Turnpike!