3 ways you should prep your car to drive for Uber
If you're thinking about making some extra cash by becoming a driver for Uber or Lyft, props to you! It's a great way to make money, explore your city, and meet new people while you're working. However, you can't just jump in feet-first without prepping your car for the job. Toyota of Clermont is here to help you get your ride ready to take on your new adventure with three helpful tips.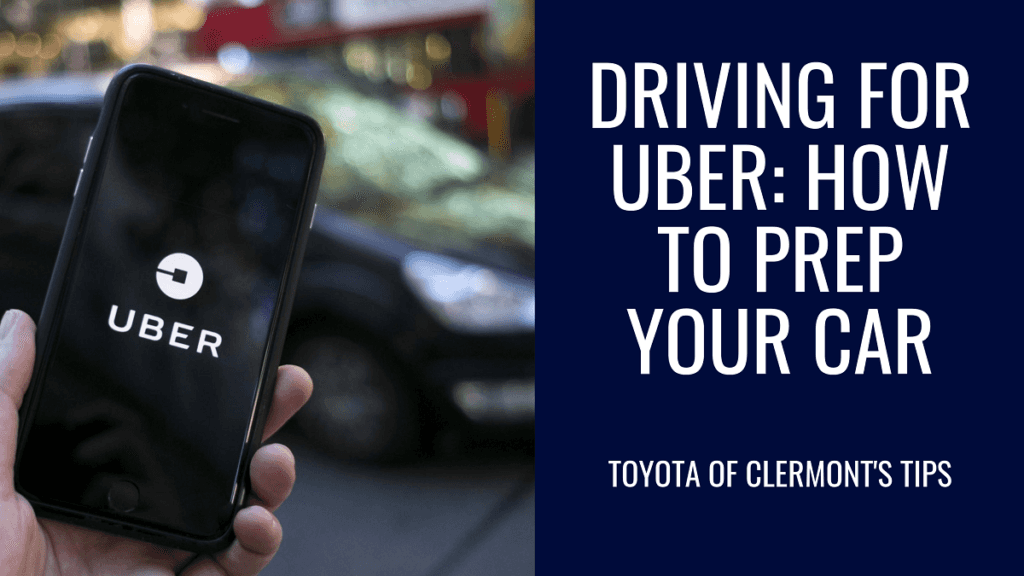 Tip #1: Check out the company/state guidelines for equipment. Most Uber drivers are required to have a mount for their phone installed in their car (you can get one that hangs off the windshield or attaches to the dash). That way your phone isn't in your hands and you're not engaging in distracted driving. You'll also probably be required to have a charger on hand at all times so your phone doesn't go dead. Finally, consider stocking your car with things that make the customer's ride time a little more efficient! Bottled water doesn't hurt, and tissues, wipes, and mints are always crowd-pleasers.
Tip #2: Have your car inspected and serviced. If you're going to be an Uber of Lyft driver, you're going to be putting a lot more mileage on your car than it's used to. Your first step should be to have a multi-point inspection conducted (Toyota of Clermont can help you out there). Our auto service techs can check your car from bumper to bumper to ensure everything is in good shape and pinpoint any problems or issues that might need to be remedied. You'll also want to consider the following car maintenance:
Oil change: You're going to be upping your mileage, which means your engine is about to be put to work. Make sure it stays cool and lubricated by keeping the right amount of clean oil in it and getting routine oil changes as needed.
Tire rotation, inflation, and balance: You need your tires to be properly balanced, rotated, and inflated to ensure the best possible performance AND fuel efficiency. Have our Clermont Toyota service techs check them for you!
Battery check: You don't want to end up with a dead battery when you're on your way to pick up a fare – have our techs check your car battery's voltage levels and overall condition.
Brake service: A brake system that's in good shape is essential to the safety of you, your passengers, and other drivers. Have your entire brake system inspected before you hit the road.
Tip #3: Detail your car. Whether you schedule car detailing at Toyota of Clermont OR do it yourself, a clean car is necessary if you want happy passengers. Wipe down and vacuum the interior and shampoo any stains. Wash and wax the exterior and shine your tires- first impressions are everything!
Have questions or want to schedule Clermont auto service to have your car detailed or inspected? Call us today at (352) 404-7001!