The Toyota Mirai is Coming This December!
The holiday season will definitely look much different this year (please wear a mask and socially distance), but there are still quite a few things to celebrate. One thing is the imminent arrival of the 2021 Toyota Mirai this December! The world's first production hydrogen fuel-cell vehicle is set to arrive at dealerships with new style, new features, and huge amount of alternative fuel sourced swag.
Toyota of Clermont is here with the latest and official details on the upcoming Mirai so you can get ready for its arrival in December!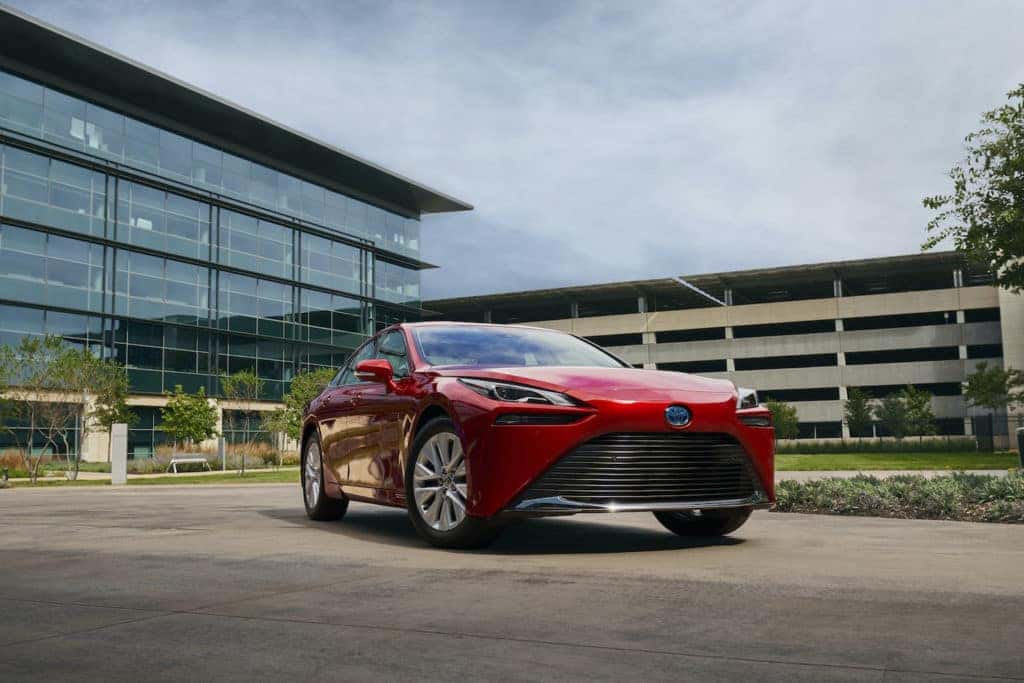 The Toyota Mirai Coming Soon
It's been an interesting journey for the Mirai. The world's first hydrogen fuel-cell powered vehicle arrived to dealerships five years ago with mixed perception due to its design and the lack of proper fueling infrastructure. Toyota is aiming to change that with a reinvigorated design that speaks sporty luxury that will, in theory, drive enthusiasm and additional funding for hydrogen fueling stations in more places.
Here are the key confirmed features you can expect to see on the Clermont Toyota Mirai:
Basics
The 2021 Toyota Mirai will be available in 2 trim grades, XLE and Limited.
For the 2021 model year, the Mirai will adopt a whole new look featuring a rear-wheel drive platform, longer and wider stance, aerodynamic body design, and optional 20-inch wheels.
It will be available paint color options like Oxygen White, Black, Supersonic Red, Heavy Metal, and Hydro Blue.
Technology
Every trim grade of the Clermont Toyota Mirai will come equipped with a 12.3-inch multimedia touchscreen infotainment display.
A 14 speaker JBL sound system with subwoofer and amplifier will be standard.
Android Auto, Apple CarPlay, and Amazon Alexa all included.
A Qi-wireless charging tray will also be standard on each trim grade.
The XLE grade Toyota Mirai will come equipped with dual-zone climate control, heated front seats, and manual rear seat sunshades.
Limited grades will include a standard Bird's Eye View Camera along with Intelligent Park Assist and panoramic moonroof.
Safety
The Clermont Mirai will come equipped with Toyota Safety Sense 2.5+. This suite of safety features enhances existing programs and protocols.
Full-Speed Dynamic Radar Cruise Control has been improved to maintain a vehicle's length of distance between the Mirai and the vehicle in front. This feature can automatically slow your vehicle to 0 mph and gradually accelerate in speed until your chosen mph is reached.
Pre-Collision System has also been improved to detect preceding bicyclists during the day and pedestrians in low light. The system can also detect other vehicles and pedestrians when performing a left-hand turn and will provide visual and auditory warnings in certain conditions.
Shop Alternative Fuel Vehicles with Toyota of Clermont
The Toyota Mirai will be available in December but it's unlikely to be available here at Toyota of Clermont. Due to a lack of fueling infrastructure available on this side of the United States it's not likely we'll see one in our inventory.
But, you can still shop for one of the many hybrid Toyota models with us today! Shop our inventory online today or visit the dealership at 16851 State Road 50.