Interested in a Hybrid Tundra? Here's Everything You Need To Know.
The Toyota Tundra makes a solid presence with rugged qualities, towing capacity, and recently an upgraded hybrid system. As many know, Toyota has announced its plan to invest 35 billion dollars to build an entire lineup of 30 battery-powered electric vehicles by 2030. So it's safe to say you'll be hearing hybrid, plug-in hybrids, and electric vehicles quite a lot in the next few years, and they're here to stay. Let's dive into everything we know about the first hybrid Clermont Toyota truck on the Toyota lineup, the Toyota Tundra Hybrid.
What is a hybrid car?
A hybrid car is a Clermont Toyota whose engine runs on gasoline and an electric motor, with an attached rechargeable battery for specifically electric-powered driving. The hybrid engine uses both machines simultaneously, making your car's fuel economy better than a regular gasoline engine. Clermont Toyota Hybrid cars have great power and performance with fewer gas emissions.  
The Toyota Tundra Hybrids available on the lineup
The 2022 Toyota Tundra i-FORCE MAX
The 2022 Toyota Tundra Hybrid comes in these trim levels: 2022 Toyota Tundra Hybrid Limited, Platinum, 1794, TRD Pro, and Capstone trims.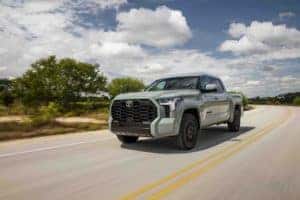 The engines
i-FORCE 3.5L twin-turbo V6 engine.

 i-FORCE MAX 3.5L twin-turbo V6 hybrid engines.

Both deliver excellent power and efficiency.
Towing Capacity
12,000 Lbs. * 

Clermont Toyota's Tundra's new i-FORCE MAX is a hybrid system but one that's built for the demands of a full-sized truck. 
Horsepower & Torque
437 horsepower and 583 lb. -ft. Of torque produced by the expansion of the core twin-turbo 3.5-liter V6 by pairing a motor-generator system built inside bell-housing to create an inline hybrid powertrain. 
The Technology in the Toyota Tundra Hybrid
2023 Toyota Tundra Hybrid i-FORCE MAX
This Toyota Tundra Hybrid is the most recent release of its kind. It comes in trims such as the Limited, Platinum, 1794, TRD Pro, and Capstone.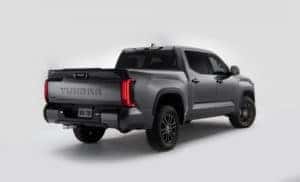 The Engines 
The new i-FORCE MAX combines the twin-turbo V6 with a motor-generator and a clutch within the bell housing between the engine and 10-speed automatic transmission in Clermont, FL. 

The motor-generator provides additional power through the transmission, while the engine start-up, EV driving, electric-assist, and energy regeneration are solely done via the parallel hybrid components. 
Horsepower & Torque
437 horsepower at 5,200 rpm.

A staggering 583 lb.-ft. of torque at a low 2,400 rpm.
Fuel Economy
Up to EPA-estimated, 20 MPG city/24 MPG highway/22 MPG combined fuel economy ratings, depending on model grade and drivetrain.

The system employs a proven and reliable 288V sealed Nickel-metal Hydride (Ni-MH) battery under the rear passenger seats. 
Test Drive a Tundra Hybrid at Toyota of Clermont
You can find many trims of the Tundra Hybrid at our dealership in Clermont, FL! So if you want to get your hands on the Toyota Tundra Hybrid, give us a call! See for yourself in-person – visit Toyota of Clermont at 16851 State Road 50, just west of the Florida Turnpike. You can also shop online or call us for additional information at (352) 404-7000.