Engine size: A simplified guide from Toyota of Clermont
Do you know what engine size your ride is currently rocking?
If you don't it's no big deal – most drivers aren't really aware of what's going on under the hood. Unless you're an auto enthusiast or worried about aspects of performance like off-roading or towing, engine size probably isn't a big concern of yours and isn't high up on your list of requirements for a new car. However, it's definitely something to take into consideration when car shopping! Toyota of Clermont has taken the time to break down the basics of engine size so you can shop with confidence next time you hit our lot.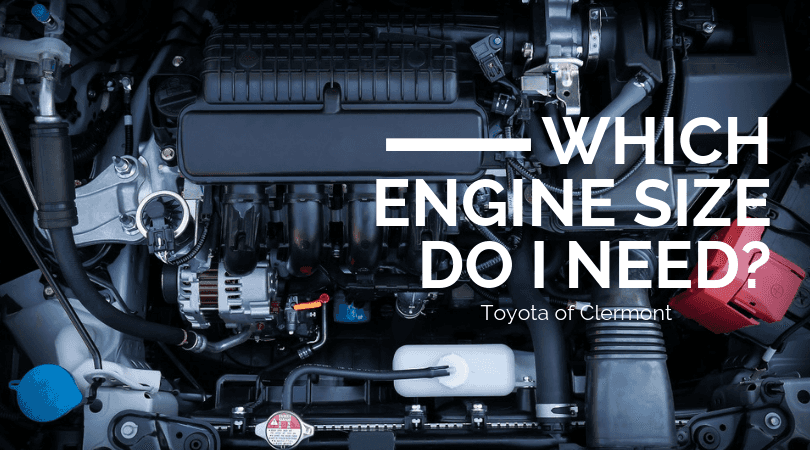 Which engine size best suits your needs?
Before you can really shop for a particular engine size, you need to know the basics, and that includes the common terminology associated with engines. Here are the main three terms you're likely to hear:
Horsepower: Horsepower is really just how much power the car produces. For example, our 2019 Toyota Camry gets up to 301 horsepower, depending on which engine size you choose.
Cylinders: Cylinders is basically how many cylinders the engine has. For example, our Clermont Toyotas range – you can choose options like 4-cylinder, V6 (6-cylinder), or V8 (8-cylinder).
Displacement: Displacement is measured in liters and is basically how much internal space the engine has. You'll find options like 2.5L, 3.5L, 4.0L. 5.7L, and more at Toyota of Clermont.
Hopefully, now you'll feel a little bit more comfortable when thinking about and discussing engine size. But what about actually settling on a size? Here are some helpful hints to help you sort through the options:
Smaller engines with less horsepower tend to offer better fuel efficiency so if you want to save on gas, consider a smaller engine under the hood.
Larger engines with more horsepower are better for performance-based needs, like towing, hauling, and off-roading. A smaller engine won't be able to cut it, so factor your drive time needs into your shopping.
Make sure you carefully consider ALL of the features you want on your ride. Some features only come with specific engine sizes, so you'll need to make sure everything lines up before you sign the dotted line.
Cars with smaller engines are usually less expensive so if budgeting is big on your list, shoot for a smaller option.
Test drive all of the options at Toyota of Clermont
Ready to shop? If you're still feeling a little bit unsure about which engine size is best for you, our product specialists can help. They know our inventory inside and out and can help you choose the right car for your performance needs and drive time preferences. And don't forget your test drive – this can also play a big part in your final decision! You may decide that the smaller, more fuel-efficient engine you thought you wanted just doesn't have the get-up-and-go you need. Conversely, you may find that the bigger, more powerful engine you thought you'd prefer isn't what you want from a day-to-day drive time solution!
Get behind the wheel today – call Toyota of Clermont at (352) 404-7000 to get the shopping process started!