Car maintenance tips for college kids
Furniture, clothes, textbooks, bedding, and just about everything in between your college student is going to need for school can be a bit much. One thing you don't want to forget to touch on is basic car maintenance. Students have a lot of responsibilities to attend to while at school and its easy to forget to maintain their Clermont Toyota vehicle. The best thing to do is to teach them some car maintenance basics and arm them with an easy checklist to follow. Luckily, Toyota of Clermont is here to make things simple with a guide on vehicle care for college kids!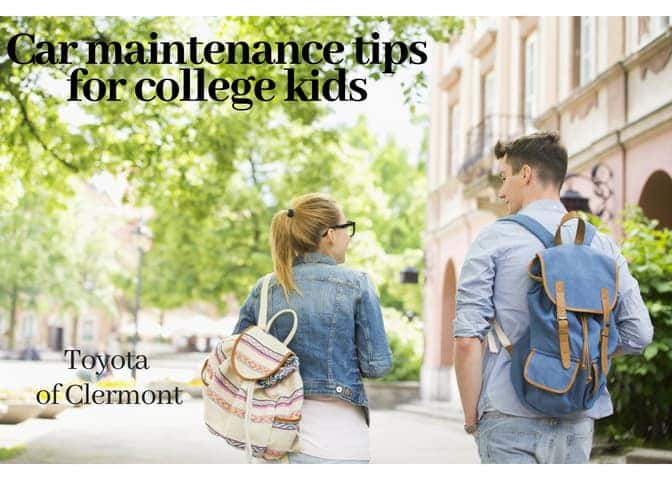 Car care made easy for college students
1) Check and fill vehicle fluids.
An essential car maintenance point you don't want your college student to miss is the vehicle fluid levels. These fluids keep your vehicle operating at peak condition and keep issues like overheating and breakdowns from happening. Checking fluid levels is fairly straightforward, simply find the right nozzle or opening for things like coolant, windshield wiper fluid, radiator fluid, transmission fluid, and power steering fluid and check the levels as they appear. As part of a good car maintenance routine, top off fluids as needed and regularly check for leaks.
2) Check battery condition.
Your Clermont Toyota vehicle's battery is prone to corrosion and charge loss over time if left unchecked. Be sure to instruct your college student to open the engine compartment every few weeks to do a visual check of the battery and its terminals to look for corrosion. This easy car maintenance routine will prevent and help spot issues like charge loss that can cause breakdowns. Make sure they always have a set of jumper cables in their Clermont Toyota vehicle if a breakdown occurs.
3) Check the tire pressure on all five tires.
Make sure to show your college student how to check the pressure levels on their Clermont Toyota tires and remind them to check their spare tire as well. A sudden drop in pressure could be caused by things like a sudden temperature drop or something more serious like a puncture or tear in the tire. You should also teach them to check the tread depth of their tires as part of a regular car maintenance routine. Use a quarter to see where the top of the tread lines up with the head of George Washington. At Toyota of Clermont, our auto service experts recommend checking tread depth and general condition one or two times a month.
4) Clean the Clermont Toyota vehicle regularly.
Finding time to give a car a full detail is difficult, especially for a college student. But, to keep the Clermont Toyota vehicle in good shape and help your college student feel better during their drive, show them how to properly clean their vehicle. This means vacuuming the carpets, wiping down interior surfaces, cleaning the exterior, and applying wax to preserve the paint.
Car maintenance made easy at Toyota of Clermont
Arming your college student with knowledge on basic car maintenance can go a long way and keep them safe on the road. To get them started, bring their vehicle into Toyota of Clermont! We can take of the first round of maintenance and answer any questions you (or your college student) may have! Visit us at 16851 State Road 50 today!