The dangers of running into potholes
Living in Clermont and driving in the Orlando area, you're no stranger to construction and poorly maintained roads. It seems like every corner you turn and every road you drive on is riddled with debris, uneven surfaces, and, the worst part, potholes! If you've ever hit one, you know that these pesky road depressions can spell the end for several important parts of your vehicle. If you're looking for better ways to avoid pothole damage, you're in luck! Toyota of Clermont is here with an easy guide on how to avoid these road hazards and what kind of damage you could be looking at if you have the misfortune of running into one.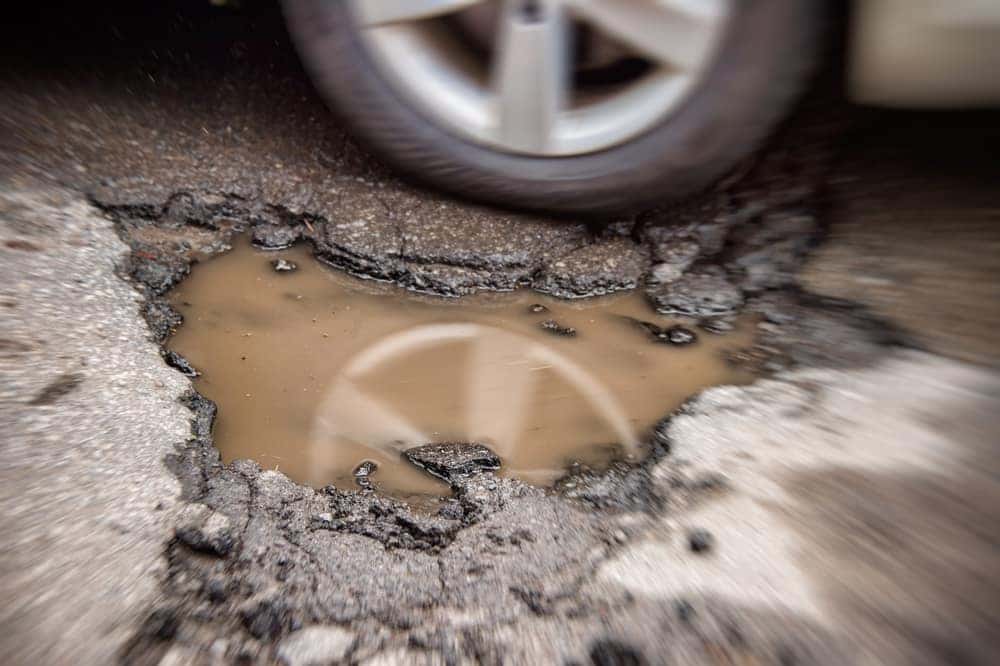 Why is pothole damage so bad?
A pro tip you should always follow while driving is to avoid hitting potholes at all costs. However, we know that's not always the case. However, if you see one coming and you can make a clean getaway without putting any other drivers and yourself in danger, then you should definitely do it. But what if you wind up running into a pothole? Unfortunately, the damage your Clermont Toyota vehicle could sustain could wind up being severe. Here are a few of the ways you could see pothole damage on your car:
Alignment: Hitting a pothole at a high enough speed could do a number on your Clermont Toyota car's wheel alignment. Signs of this type of pothole damage could be in the form of your car drifting on the road, pulling to one side, or a vibration sensation in your steering wheel.
Tires: Needless to say, your tires take quite a lot of punishment from the road, especially when it comes to pothole damage. Hitting a pothole can cause your tire to go flat, it could bend the rim of your wheel, break the seal between your tire and the wheel, and misalign your tire and cause uneven wear over time.
Suspension: Your Clermont Toyota car's suspension system is the main reason behind your smooth rides, easy turns, and the reason why the body of your car doesn't rub up against the tires. Pothole damage can affect your car drastically and cause your vehicle to slouch in certain places, have difficulty with turns, and cause vibrations in the seat and steering wheel.
Fixing pothole damage
Unfortunately, potholes are a dime a dozen in the Clermont and Orlando areas between all the construction and general condition of the roads. In the event that you run into one, make sure to visit our auto service department here at Toyota of Clermont! Our auto service techs can repair the damages of pothole damage at an affordable price. We can realign your wheels, get you a brand-new set of tires that will last, and repair your vehicle's suspension issues to get you back on the road with peace of mind. We're open seven days a week and located at 16851 State Road 50, just off the Florida Turnpike.