Say hi to the 2020 Toyota Corolla!
Everyone's favorite Toyota compact sedan sported impressive looks for the 2019 model year and even got a hatchback version. All in all, 2018 and 2019 have been kind to the Toyota Corolla. But, 2019 is old news and it's time to make room for the 2020 models. New models like the 2020 Toyota Supra have garnered praise from motorists and we expect the 12th generation Toyota Corolla will do the same for the new model year. While we have to wait for the official release on Thursday, November 15th, Toyota of Clermont is here with some initial details to get excited about!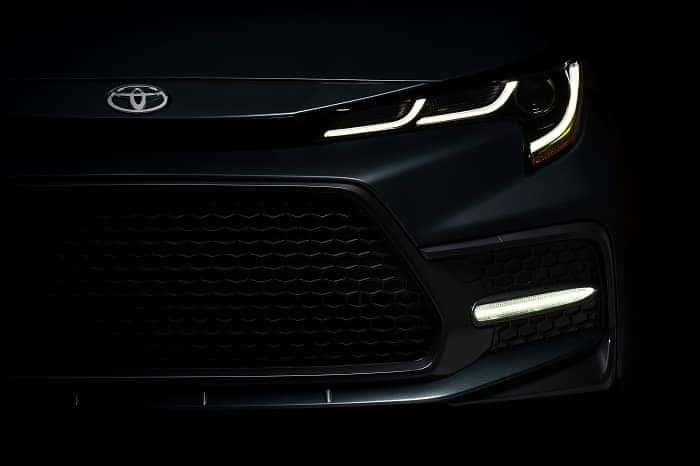 New Toyota compact sedan on the way
The Clermont Toyota Corolla is a best seller and favorite among commuters for its dependability, fuel-efficiency, and spacious feel. For the 2019 model year, the Toyota compact sedan sported a handful of aesthetic improvements, but not an overall redesign. However, with the success and praise of the 2019 Toyota Corolla Hatchback, the Toyota Corolla sedan is likely due for a redesign for its 12th generation.
Via Twitter, Toyota teased the new Toyota compact sedan with a photo and the caption, "the world's most popular car is about to get greater than ever." The teaser photo looks promising with a newly redesigned front grille, headlights, and daytime running lights. Because of the massive success of the 2019 Clermont Toyota Corolla Hatchback, it's likely that the new Corolla Sedan will draw inspiration in both body design and engineering from its new sister car. Unfortunately, no features or designs have been officially confirmed. But we can assume that the Clermont Toyota Corolla will likely be engineered to resemble the hatchback. Some features rumored to be included on this Toyota compact sedan are:
A 2.0L inline-four engine that sports 168 horsepower and 151 pound-feet of torque. This is a drift away from the Corolla sedan's previous 4-cylinder engine.
An aggressive and sporty front end resembling the Clermont Toyota Corolla Hatchback.
Better fuel efficiency with an estimated 36 combined mpg.
Toyota Safety Sense 2.0 with cyclist and road sign detection.
New Apple CarPlay and Amazon Alexa compatibility.
While these feature details may just be speculation, we'll get a better idea on Thursday during the livestream reveal of this new Toyota compact sedan. You can tune in to the reveal via this link: https://livestream.com/Toyota/Corolla
Judging by previous model year Toyota compact sedans, it's likely that the MSRP of the new Clermont Toyota Corolla will lie somewhere between $19,500 and $24,000.
Shop new Toyotas at Toyota of Clermont
The reveal for the new Toyota Corolla is so close and we're so excited! But it will be some time before this Toyota compact sedan finds its way to Toyota of Clermont. In the meantime, you can still shop our huge inventory of brand-new Toyota vehicles, including the sporty and stylish 2019 Toyota Corolla Hatchback! Visit Toyota of Clermont at 16851 State Road 50, just off the Florida Turnpike.