What To Do If You Drive In A Tornado
Road trip season is here with the arrival of summer. Many of our Clermont Toyota drivers will be hitting the roads for their own adventures. Whether you're hopping into your 4Runner, Tundra, or RAV4, road trips are always a great way to have new experiences, however what if that new experience happens to be driving in a tornado? Our experts here at Toyota of Clermont are here to guide you through the warning signs of a tornado, and how to drive safely in a tornado.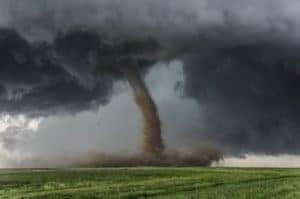 What is a Tornado? 
A tornado is a rotating funnel-shaped clump of air that occurs around a thunderstorm. In some cases, Tornados are powerful enough to cause a significant amount of damage through it's forceful winds and circling direction. 
Warning signs of a tornado.
You see a large hail and heavy rain followed by a calm period and sudden wind shift

Low, dark clouds that appear to be rotating

You hear a noise that sounds like a freight train, oops you may encounter driving in a tornado

Swirling debris on the ground

You get notified that there's a tornado warning
A guide to driving in a tornado: here's what to do & why
Although, there isn't a safe place in a Clermont Toyota car, there are less dangerous options. Let's discuss!
1. 
Get yourself to Shelter ASAP! 
If there's nowhere to go for shelter, get yourself to the nearest place as soon as possible. Download an app called Tornado Spy to find out the direction of which the tornado is coming and drive in the opposite direction – if the tornado is visibly far away. It's better to leave the road than to pull over, since there's no place to go (an overpass is not a place of shelter).
2. 
Make sure to tilt your steering wheel at a slight angle against the wind.
If you are planning on driving away from the tornado make sure that you tilt your steering wheel at a slight angle against the wind. Try to combat the force with force back by slightly angling your steering wheel against the wind, so the wind doesn't push you off your driving lane. Since it's a tornado the wind shifts direction, so make sure you tilt your steering wheel according to the wind direction. 
3. 
If you are stuck in the tornado and can't take shelter.
Park the car as quickly as you can to the side of the road. Stay in the car and put on your seat belt. Next, put your head down below the window with your hands or blanket covering your head. 
What to do if your Clermont Toyota has been damaged by a tornado!
Document the damage by taking pictures and videos of your Clermont Toyota, as well as writing down everything you see that was affected by the tornado. Make sure to leave it how it looks whether that's a tree stuck or if the car is turned onto its side. 

Contact your auto insurance to notify them about the accident from the tornado. If the damage from the tornado is covered, go ahead and submit your documentation as well. 

Call a non-emergency line for the fire or police department to gather an incident report. 

Take your damaged car into a local auto body shop in Clermont, FL! Here at Toyota of Clermont, our expert techs at our body shop will take great care of your car! 
Come to our dealership to fix your tornado car damage! 
We would love to help you answer any questions you may have. So give us a call at (352)404-7000. We're located just off the Florida Turnpike at 16851 State Road 50 Clermont, FL, 34711.