Toyota Highlights from the 2019 Tokyo Motor Show
The 2019 Tokyo Motor Show is underway in Japan right now and needless to say, the exhibitions look breathtaking. There's nothing more exciting than getting a glimpse at new vehicle concepts, upcoming productions models, and new technology that might have its time in the sun. Like we say time and time again, the automotive industry stops for no one and no thing and the future is always right around the corner. It's at trade shows and conventions like these that industry professionals and consumers can be witness to the unveiling of new products from the great automotive giants. This year, for the Tokyo Motor Show, Toyota did not disappoint with its huge display of innovative technology, new production models, and futuristic concept vehicles.
A lot has been revealed at the Tokyo Motor Show so far and, lucky for you, Toyota of Clermont is here with the latest updates and most interesting outtakes from the show. While some of these Clermont Toyota vehicles are only concepts and we may never see them at our dealership, it's still amazing to see what could be. Read on for more!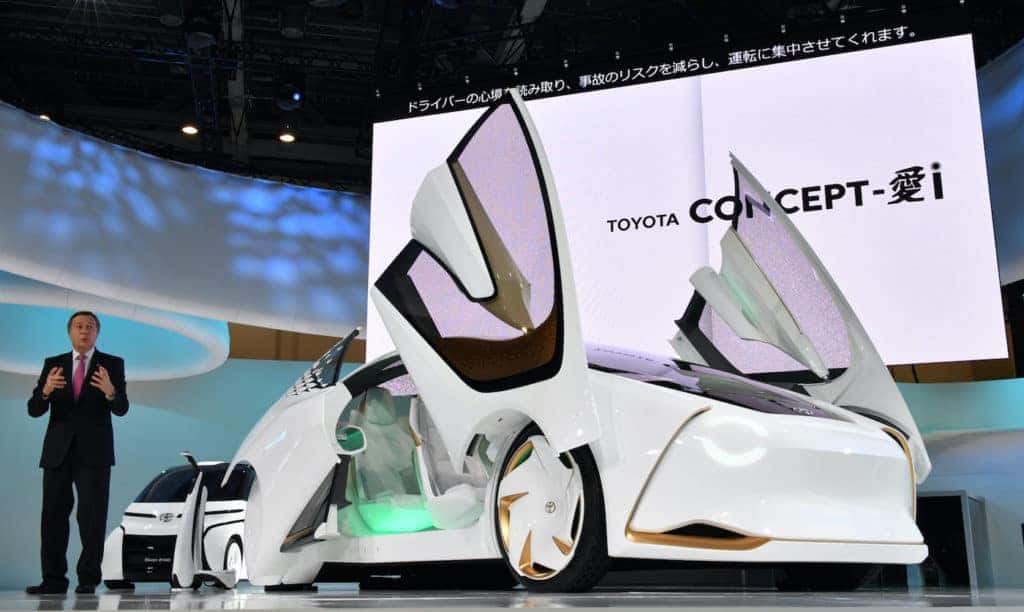 Cool Things to Come Out of the Tokyo Motor Show
Toyota Robots
It's not a car, but it's an amazing demonstration of Toyota's advancing AI system. The Toyota T-HR3, the Micro Palette, and the e-Palette are all examples of Toyota's ongoing effort to introduce AI based devices like robots, small delivery vehicles, and people movers to enhance human mobility. Several of these devices will be used and displayed during the 2020 Tokyo Summer Olympics to help people commute around the Olympic village.
Electric Vehicles Galore
The world and the automotive industry are moving toward alternative fuel sources to combat the climate crisis while still providing more cost-effective and clean ways of moving people. Toyota has introduced an entirely new second generation Toyota Mirai (which uses hydrogen as its sole fuel source), but electric vehicles are become very popular among drivers. For the Tokyo Motor Show, Toyota has displayed several concepts including the Clermont Toyota e-Trans and the e-Racer. The e-Trans is a concept of a multi-passenger autonomous vehicle based around electrified engineering. The e-Racer uses a similar concept with batteries as its primary fuel source.
The Vehicle that Knows You
After alternative fuel and vehicle autonomy comes active machine learning and AI based tools to make your vehicle more aware of you. From this thought comes the Clermont Toyota LQ with AI program "Yui." This ultra-futuristic ride uses an AI program that learns about the driver to assist with driving and make every commute different. This vehicle will learn your ideal air temperature, music volume, cruising speed, how alert you are, and more to tailor the driving experience to the driver. This vehicle will also use Toyota's autonomous vehicle technology once it's successfully developed.
While it'll likely be some time before any of these Toyota vehicles from the Tokyo Motor Show make their way to Toyota of Clermont, we're excited to say the least! In the meantime, you can still shop for your next technologically advanced Toyota with us online and in store at 16851 State Road 50 today!