Different Types of Car Tires
With most products and services we come across during our day, it's hard to ignore the fact that there are always a plethora of options for just about anything. The same applies for vehicles and just about every part on them. In particular, your car tires are a category of auto part that, believe it or not, is filled with different options. Depending on the type of tire your vehicle is equipped with, you could see a significant change in your drive quality and experience. At Toyota of Clermont, we're sure you've been shopping for tires based on their price and nothing else (we're all guilty). But, we're here with a guide on the various car tires your vehicle can use so you can shop smart and get the most out of your car.
What Are the Different Types of Car Tires?
Tires come in a variety of styles and with different features that suit specific vehicles and needs for all different drivers. Here are the most common types you'll come across during your Clermont car tire buying process:
Summer
Named after the season in which they perform best, Clermont summer tires are designed for optimal performance during the hotter and rainier months of the year. These tires use solid contact patches that grip the road during the rain and they can withstand hotter pavement temperatures.
All-Season
This type of car tire is probably the most common and used on many Clermont Toyota vehicles. They're highly reliable, provide a comfortable ride, and priced economically. They feature a symmetrical tread pattern that's easily recognized.
Touring
Touring tires take everything great about all-season and add on more performance. They're have greater speed ratings, superior handling, and asymmetrical tread patterning. Within this category there are several options to choose from depending on the performance level you want from your Clermont vehicle.
Performance
If you want to go fast and/or you drive a car like the Clermont Toyota Supra or 86, these tires were made for you. Performance tires are built to withstand the highest speeds and with the best handling.
While many of the previously listed car tires are available on many different Toyota models, they're not all the ones that are available. In fact there are several other types to choose from if you drive a Clermont truck or other speciality vehicle.
All-Terrain
These tires are designed to handle off-roading but perform surprisingly well on the highway. They're designed with a bulky, atypical tread pattern that's surprisingly balanced and easy to spot.
Highway
If all-season tires are meant for sedans then highway car tires are meant to service SUVs. These Clermont tires provide optimal pavement comfort and can handle heavier weight class vehicles.
Mud-Terrain
If your off-roading consists of mud, sand, and large branches then mud-terrain tires are the way to go. Their bulky design and reinforced sidewalls give them resistance to many natural tire killers. But, unlike their all-terrain cousins, these car tires are not the best when it comes to highway driving.
Ribbed
Ribbed tires are designed to last for a large amount of miles and perform well in wet weather. Their tread pattern is far different than typical Clermont tires.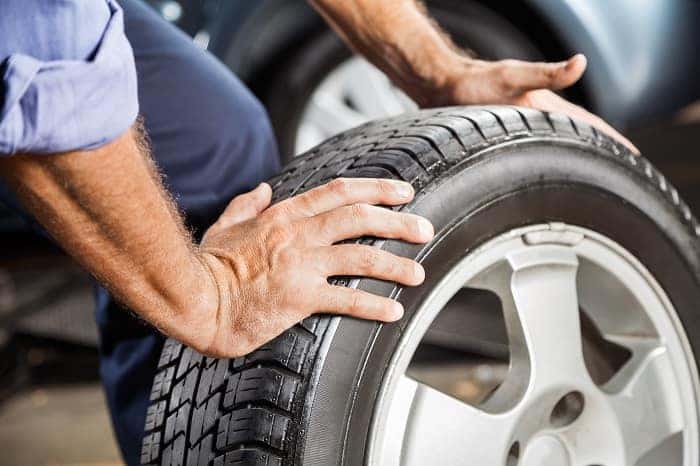 Find Your Next Set of Car Tires at Toyota of Clermont
Here at Toyota of Clermont we have an excellent selection of car tires and we're happy to help you find the best set for you. If you're ready to shop with us, visit the dealership's auto service center at 16851 State Road 50!