How to avoid distracted driving
Car accidents are a common occurrence to see driving around the Clermont area, but that doesn't make them any less harmful and scary. Whether the accident is severe or simple like a fender bender, the last thing anyone wants is to be stuck in one. Distracted driving is a huge contributor to this growing issue that comes in many forms. If the activity diverts your attention from driving, then it's causing a distraction and can lead to a potential accident. To help you avoid distracted driving, Toyota of Clermont has put together an easy to follow guide that you should check out!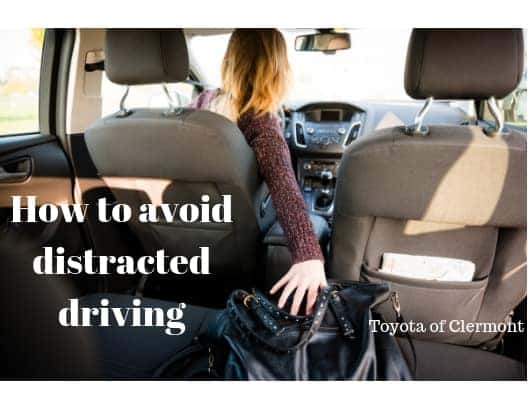 Tips to prevent distracted driving
Make sure to stay focused on the road throughout your drive. Always observe your surroundings and use the mirrors in your Clermont Toyota vehicle to scan the road for objects and pedestrians.
Loose items like groceries, tissues, and other objects rolling around during your drive can cause distracted driving. Stow these items in a secure place before putting your car in drive to avoid the temptation to fix them during your drive.
Eating while driving your Clermont Toyota vehicle is distracted driving. Enjoying a snack while driving is safe and sometimes necessary if you haven't eaten recently, but make sure to choose the right foods. Avoid eating foods that are messy or difficult to eat on the road and try not to consume whole meals while behind the wheel.
Before you leave the house, finish all personal grooming and dressing. Sitting at stop lights or in traffic jams before you get to your destination seems like the perfect opportunity for doing last minute or skipped parts of your morning routine. But, this keeps your attention off the road and qualifies as distracted driving.
If you're carpooling with passengers, ask them for help! Your passengers can keep you free of distractions by picking out music and getting driving directions. However, make sure they keep their activity to a minimum to avoid distracting you.
Make any necessary adjustments to your Clermont Toyota vehicle before leaving your driveway. Find the right seat position, queue up your music, adjust all your mirrors, check traffic conditions, and set your A/C temperature. If you have to make any of these adjustments while on the road, pull over and park in a safe spot first to avoid distracted driving.
Put all your electronic devices away before getting on the road. Cell phones are the number one distraction many drivers encounter while on the road and the cause of many accidents. Unless it's an emergency, don't use your phone and stow it in an area of your Clermont Toyota vehicle that can't be easily accessed.
Drive safe with Toyota of Clermont
Distracted driving is a severe issue that can be prevented by taking responsible steps as a driver. You can also use helpful convenience tools like windshield and dashboard phone mounts available from our auto parts department at Toyota of Clermont! Our expert auto service team can also help you if you have any questions. Visit us at 16851 State Road 50 seven days a week!