Peace of mind with every new Toyota.

We at Toyota are devoted to safety and dependability, and proper vehicle maintenance is essential to both. That's why we're so pleased to be able to include a no cost maintenance plan ¹ with the purchase or lease of every new Toyota. For 2 years or 25,000 miles - whichever comes first - you and your new vehicle will be covered. It's no cost peace of mind, and we're the only full-line brand to offer anything like it!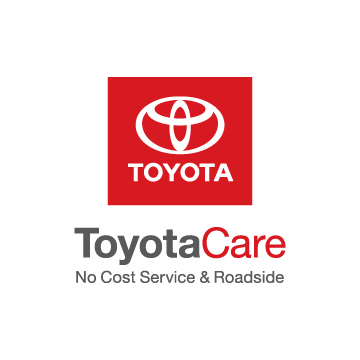 Maintenance

Factory-trained Toyota technicians will help you fulfill maintenance obligations and help improve your Toyota's overall value, while keeping a complete history of your maintenance visits. Toyota will also deliver timely reminders before your scheduled maintenance.

ToyotaCare Scheduled Factory Maintenance Covers:
      

      

    Oil and filter ²

       

          

      

    Lubrication check of key chassis parts

       

          

      

    Tire rotation

       

          

      

    19-Point Inspection


19-Point Inspection

19 points are checked on your car to proactively identify potential issues, reducing the possibility of a part failure. The preventative maintenance is designed to keep your car and your bank account in the best shape possible!


Fluids inspected and replenished:


    1.     Brake master cylinder
    2.     Clutch master cylinder
    3.     Transmission
    4.     Differential
    5.     Coolant
    6.     Windshield washer
    7.     Power steering
    8.     Transfer case (if applicable)

Visual inspection of:


    9.       Air filter
    10.     System hoses
    11.     Drive belts
    12.     Axle boots
    13.     Shock absorbers/suspension
    14.     PCV valve (if applicable)
    15.     Cooling system
    16.     Exhaust system/muffler
    17.     Tire wear
    18.     Tire pressure
    19.     Windshield wipers


24-Hr. Roadside Assistance




ToyotaCare features 24-hr. roadside assistance ³ for those days when you need a tire changed, or to have a door unlocked.

24-Hr. Roadside Assistance Covers:
      

      

    Lockout protection

       

          

      

    Flat tire changes

       

          

      

    Jump starts

       

          

      

    Fluid delivery

       

          

      

    Towing for the unexpected
Disclaimers
1. Covers normal factory scheduled service for 2 years or 25,000 miles, whichever comes first. See Toyota dealer for details and exclusions. Valid only in the continental U.S. and Alaska.
2. Consult the vehicle's Warranty and Maintenance Guide for Factory-recommended services and intervals.
3. Does not include parts and fluids, except emergency fuel delivery.