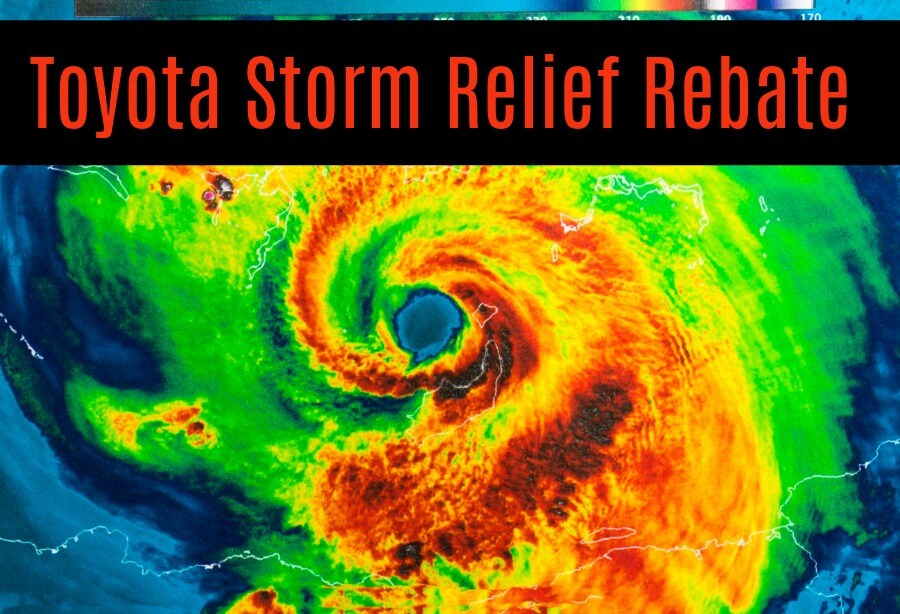 Special incentives for those affected by the storm
As a result of severe weather in the southeast, many people sustained damage to their vehicle. The $1,000 SET Storm Relief Customer Support Program certificate is available to assist customers with verifiable damage to their vehicle that meet all of the following criteria.

How long will this program run?
The new vehicle must be sold, reported, and contracted between September 13,

2017

through October 31, 2017.
Which vehicles are eligible?
What is the offer?
Customers receive $1,000 Customer Support Program Cash towards a new Toyota. Offer must be applied to the deal.
Who qualifies for this offer?
Any customer that shows a copy of their insurance claim form or official verifiable documentation from their carrier indicating their vehicle was damaged (damaged vehicle does not need to be a Toyota) or totaled as a result of severe weather or flooding between 9/6/17 and 9/12/17 will qualify for this Customer Support Cash Program. Only 1 Customer Support Program Certificate can be used per new vehicle transaction.
Where is the offer valid?
This offer is available at participating Southeast Toyota Dealers in Alabama, Florida, North Carolina, South Carolina, and Georgia, including Toyota of Clermont.
How do I claim my offer?
Stop by the dealership or give us a call for more information on claiming your offer at (352) 404-7000. You may also call the Southeast Toyota Customer Care Team at 1-888-688-1166 for more information on the storm relief program.
Offer is only valid on vehicles retailed and reported within program dates. The $1,000 Customer Support Cash Certificate may be modified or terminated at any time.