What can you expect from a Toyota Certified Used Car in Orlando
? Above all, the sense of security that you're getting a reliable used car at an amazing price. Toyota of Clermont is proud to offer these exceptional used car options to all of our valued customers; we feel that you deserve the peace of mind you crave when searching for a vehicle. Buying a used car can be frightening or stressful; you want assurance that you're getting a great deal and not driving off in a lemon. Let our great selection of Toyota Certified Used Cars put your mind at ease!




How does a used car in Orlando become Toyota Certified?

Toyota Certified Used Cars don't earn that designation easily - they undergo a series of steps along the path to ensure you're getting an exceptional vehicle. There are several stipulations that have to be fulfilled first:


The car MUST be a used Toyota. We believe that the best new cars make the best used cars, so why mess with anything else?

Additionally, the used car in Orlando that's up for the Toyota Certification program must have less than 85,000 miles on it, and/or be less than seven years old (including the current model year). This helps us to enforce better quality control on the vehicles.

Next, each Toyota Certified Used Car has to go through a very detailed inspection, which is carried out at our Orlando Service Center by our trained Toyota technicians. They look the car over from bumper to bumper, ensuring that no issues are present or will arise in the future. The inspection consists of 160 different points - talk about thorough!

Finally, a CarFax report is obtained for the Toyota Certified Used Car in Orlando. The CarFax report provides you with a history of your vehicle, including events in its past that might be of importance. For example, you'll find out if your used car has even undergone repossessions, water damage, recalls, and more! The CarFax report helps you find out where your car has been BEFORE you decide where it's going.
Find incredible warranties on Toyota Certified Used Cars! 

What else can you expect from a Toyota Certified Used Car in Orlando? Warranties! This is the icing on the cake - the warranties you'll find on these cars at Toyota of Clermont are incredible. You'll get a 1 year/12,000 miles comprehensive warranty (from the date of the purchase) that covers any repairs or replacements that occur due to defects in materials or workmanship. Your used car will also be backed by a 7 year/100,000 mile Powertrain Limited Warranty, which covers the engine, transmission, transaxle, and drive axle!

However, that's not all. You'll also get one year of 24 Hour Roadside Assistance, and the option to upgrade your warranties at Toyota of Clermont! You can tack on warranties like the Platinum Limited Warranty or Certified Wrap Service Contract, and add in elements like travel breakdown protection and rental car allowances.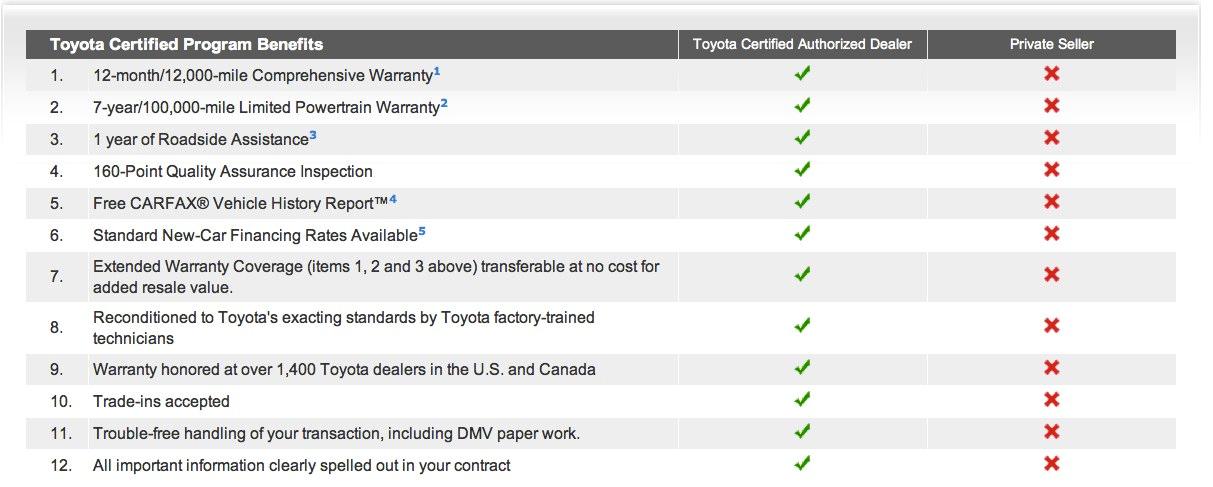 Want to learn more about our Toyota Certified Used Cars in Orlando and take one out for a spin? Visit Toyota of Clermont today! We're at 16851 State Road 50, and you can give us a ring at (888) 590-6090 today for more information or to set up an appointment. See you soon! 


Legal Disclaimers:
*Whichever comes first from date of Toyota Certified Used Vehicle purchase. The Comprehensive Warranty covers any repair or replacement of components which fail under normal use due to defect in materials or workmanship. (Program not available in Puerto Rico and Hawaii.)
**Whichever comes first from original date of first use when sold as new. See your Toyota Certified Used Vehicles dealer for warranty details. Program not available in Puerto Rico and Hawaii. For AL, FL, GA, NC & SC, warranty coverage differs in the following ways: 7-year or 100,000-mile Toyota Certified Limited Powertrain Warranty coverage begins on January 1st of the vehicle's model year and zero (0) odometer miles and expires at the earlier of seven years or 100,000 odometer miles.
***From date of Toyota Certified Used Vehicle purchase. Covers most services, including flat tires, lockout service, jump starts, fuel delivery up to 3 gallons and towing for mechanical breakdown or collision recovery to the nearest Toyota dealership. Services provided exclude any parts required. Coverage not available in Mexico. See Certified Warranty Supplement for warranty details.