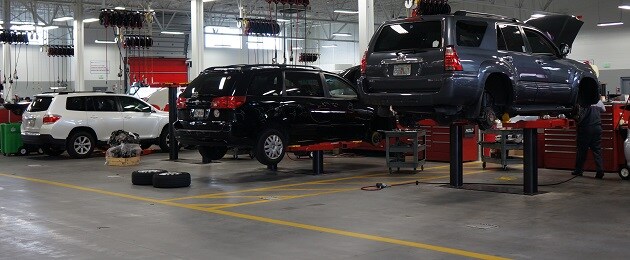 Taking care of routine auto service in Orlando is extremely important. It's a necessary part of car ownership if drivers want their vehicle to perform well and last a while. With so many different types of auto service in Orlando to pay attention to, it can be easy to overlook some services that shouldn't be forgotten. 
When it comes to brake service, it's common for drivers to only bring their car in to have the brakes checked if they hear a squealing noise. However, there are actually many warning signs that can let drivers know their car needs some brake service in Orlando!
 
How do you know if your car needs brake service in Orlando?

A brake system isn't one single device that does all the work. A lot of different parts make up the braking system in car, like: 

   
Brake Pads
   
Brake Rotors
   
Brake Calipers
   
Brake Linings
   
Brake Shims
   
Braking Plates
   
Brake Springs
   
Wheel Cylinders
   

Brake Fluid

These are only a few of the parts that can be found in a car's brake system, which is why regular brake service is so important. Drivers should take the time to make sure the brakes in their car are working properly! So how can you tell if brake service in Orlando is necessary? 
Do the brakes make a sound?
The most common indicator that brake service in Orlando is needed is when drivers hear something out the ordinary when they press down on the brake or come to a complete stop. How do you know if the noise is something normal or out-of-the-ordinary? 

   
You know your car the best. After all, you're the one who drives it on a regular basis! Sometimes cars might make squeaking noises first thing in the morning - especially when the weather turns cooler outside and the car isn't parked in a garage. If the sound is something you've never heard before or sounds odd to you, though, then it's best to get some peace of mind by scheduling some brake service in Orlando to get them checked. 
   
   
Many brakes are equipped with a special mechanism that will make a loud and high-pitched screeching sound if there's an issue. This is normally the squealing sound most drivers associate with brake trouble. If this is the noise you're hearing, then you don't want to delay. Bring your car in for routine auto service in Orlando to get the brake system examined as soon as possible. 
   
   
Another noise drivers might hear if brake service in Orlando is needed is a grinding sound. This can be indicating that the brake pads are worn down and need to be replaced - a simple fix at our Toyota Service Center! If this turns out to be the case, then it's important to have the brake pads replaced as soon as possible. Ignoring the issue can lead to the pads wearing thin and the rotors getting a damaged, which means an even more expensive auto repair in Orlando will be needed!

How do the brakes feel? 

Along with paying attention to any sounds the car might make when the brakes are pressed, drivers should also be mindful of how the car handles and how the brakes feel when they're being used. 

   
If the brakes feel like they're pulsing or vibrating, then the brake rotors might be malfunctioning. Immediate brake service should be scheduled to avoid further damage. 
   

Do you notice that your car is pulling over to one side? This is normally a warning sign of brake or tire problems. It's possible that the brake linings have uneven wear, the brake fluid needs to be changed, or something else is at fault.  No matter what the reason, it's important to get it checked sooner rather than later to avoid extensive damage and repairs.
Schedule a brake service appointment today!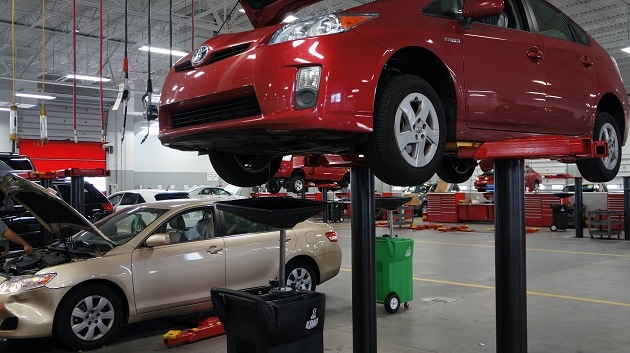 If you think it's time to get some brake service in Orlando for your car, or just want some peace of mind that all is in working order, why not stop by and visit us today? 
Our Toyota Service Department is open every day, and our location is easy to get to. We're found at 16851 State Road 50, and you can even call ahead to make an appointment by contacting us at (866) 454-1614!