Has it been a while since you've shopped for a used car in Orlando? If it has, you might be a bit of out practice! Believe it or not, there's a certain art to finding the right pre-owned car efficiently and remaining within your budget. If you're getting back into the groove of Orlando use car shopping, you've probably heard a couple of tips and advice - unfortunately, not all of it might be true. Toyota of Clermont is dispelling rumors about used car shopping!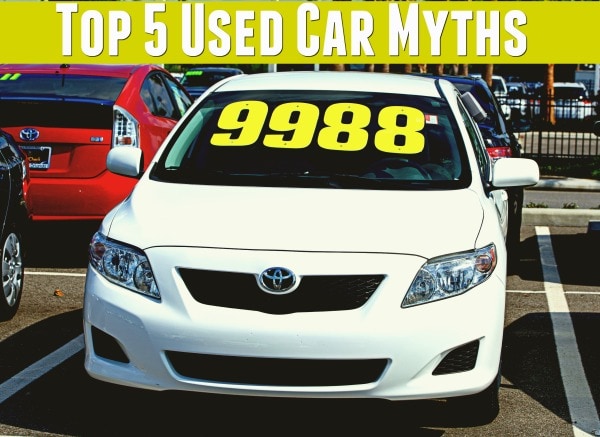 Top 5 Used Car Shopping Myths
Have you heard any myths about Orlando used car shopping that you're leery of? We want to help clear the air by explaining the five most common myths about shopping for used cars in Orlando.
Myth #1: A test drive isn't necessary.
FALSE! In fact, you should test drive any vehicle that you are considering purchasing. A test drive will allow you to get a feel for the vehicle and determine its condition. When you're behind the wheel and out on the road, you should pay attention to how the car accelerates, brakes, turns, and handles overall. 
Myth #2: You don't have to pull a vehicle history report.
FALSE! It's strongly encouraged that you check into the history of the vehicle. A vehicle history report lists important information about the car, like:
Myth #3: You shouldn't buy a car with accident damage.
TRUE! While most vehicles with recorded accident damage have been repaired, the structure and safety of the vehicle could have been compromised. If a vehicle has had frame damage from the accident and the car has been deemed salvage by the insurance company, it should not be driven again. These cars are a safety risk. 
Myth #4: You can't get warranties on used cars in Orlando.
FALSE! While warranties typically do not come automatically with Orlando used cars, Toyota of Clermont offers a number of available warranties on our pre-owned cars. You can sign up for warranties that will keep you from paying out of pocket for certain auto services and repairs.
Myth #5: Buying a car online is a better idea.
FALSE! While pre-owned car shopping in your pajamas and on your couch sounds appealing, it may not be the best plan. Buying an Orlando used car online doesn't allow you to take it for a test drive or inspect the condition. Purchasing a pre-owned car online also typically requires you to have to pay an extra delivery fee, and you end having to leave your house to pick up the vehicle anyway.

Toyota of Clermont knows car shopping!
If you've heard any of these myths about used car shopping, and wondered if there was any truth to them - now you know! Before you sign on the dotted line for a used car, make sure you're purchasing a vehicle that will be reliable.
For a used car shopping experience you can feel good about, visit us at Toyota of Clermont! Our helpful sales associates can help you get behind the wheel of a vehicle you'll trust. We're located at 16851 State Road 50, between the Florida Turnpike and Highway 27!