Shopping for a used car in Orlando can sometimes be a stressful experience. With these tips from Toyota of Clermont, finding the vehicle that's right for you doesn't have to be a source of frustration. With a few simple steps, you can quickly and efficiently find a used car in Orlando that's not just right for your day to day driving needs, but also right for your budget!
Enjoy the benefits of taking home a used car in Orlando!

Sometimes potential buyers might be swaying back and forth between the choice of getting the latest model-year, or opting to take home a used car. How do you know if buying a used car in Orlando is right for you? It's all a matter of personal preference, but it's important to remember that pre-owned vehicles deliver a variety of benefits!
   
An obvious perk to taking home a pre-owned vehicle is that it might be better-suited to your budget. We're constantly offering used cars specials in Orlando at our location, and alternating which pre-owned cars we feature! This means that you have a practically never-ending selection of affordable vehicles to choose from. 
   
You also don't have to worry about purchasing something that's going to depreciate in value - especially if you opt to get a used Toyota! Toyota vehicles are actually praised for their high re-sale value. Kelley Blue Book just recently named multiple Toyota vehicles that are recommend for the incredible value they offer!

   
If you opt to get a used Toyota in Orlando, you also have more to enjoy than just how much it's worth. Many different used vehicles can come with a warranty, and if you're getting a Toyota Certified Used Car then this is one benefit you're guaranteed to enjoy!  

These are a few of the perks of taking home a used vehicle in Orlando: they're budget-friendly, reliable and valuable!
 
Find a used car in Orlando today!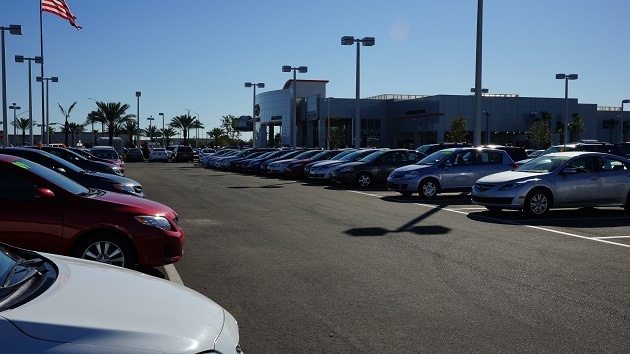 Once you've decided that taking home a used car in Orlando is right for you, then it's time to start searching for the right one. Following a few simple guidelines can significantly help move the process along, as well make the overall search much more enjoyable. 
   
As soon as you're interested in getting a different vehicle, it's important to decide on a price-point. Taking the time and effort to find a used car that's not right for your budget won't help you get behind the wheel of a newer car faster. Deciding on your budget  now can save you time and money in the future! If you need any help figuring out your budget, our Toyota of Clermont Finance Center can be of assistance, too!

   
Once you've decided on the price range you want to work with, try to list what features are important to you to have. This might include factors such as: mileage, model-year, performance, popularity, reliability, interior features, etc. If you want a sports car like the Scion tC or Scion FR-S, but don't necessarily care when it was made, then this can help direct you towards suitable pre-owned cars.

   
After you've found one - or a few - pre-owned cars that you want to test-drive, then it's time to do a little bit more research! Be sure to request a CarFax report so you know exactly what the car's history is. You don't want to get behind the wheel of pre-owned vehicle that doesn't have the kind of background you're looking for.

   

Last but not least, take the time to test-drive the used vehicle you think you want! While you're behind the wheel, pay attention to different factors such as acceleration, how it handles, and overall response time. Also note what features are already in the interior, and if you're satisfied with its overall condition. 

Once you've completed all of these steps, you should be behind the wheel of the vehicle you've always wanted in no time! 

Have any questions? You're not alone while you try to find the right used car in Orlando. Give our Internet Sales Team a call at (888) 590-6090 if you need any assistance, or stop by and speak with one of our Product Specialists in person at 16851 State Road 50!