Safety is always number one when doing anything, especially driving! Luckily, you don't have to worry about it when you drive a new Toyota near Orlando. Toyota leads the industry in safety technology, especially with our Star Safety System! You might have heard of this safety feature before, but if you're not quite familiar with what it is, we can explain. Toyota of Clermont wants to share what the Star Safety System is and how it can help you!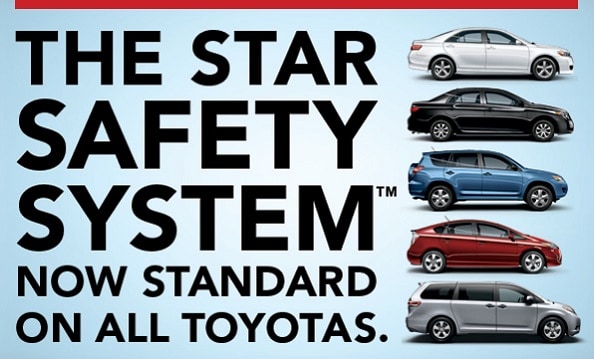 Find the Star Safety System in every new Toyota near Orlando!

Every new Toyota, including the Toyota Corolla, Toyota Camry and Toyota Prius near Orlando, comes equipped with the Star Safety System. This made Toyota the first full-line automotive manufacturer to include it standard! This system includes six different safety features to enhance your vehicle's stability, braking and traction and keep you in control. Let's take a closer look at how each feature can help you!

   

Anti-lock Brake System: This technology helps keep your brakes from locking up and your vehicle from skidding when you suddenly hit your brakes. It'll keep you in control, even when the unexpected happens by rapidly pulsing the brakes until the situation is under control.

   

Traction Control: This feature helps you regain control when in a slippery situation. Once your vehicle starts to lose traction, it'll automatically reduce engine power and apply brakes on the wheels that need it until you regain traction.

   

Brake Assist: This useful technology can sense when you hit the brakes in an emergency situation and apply even more force to help you stop faster and avoid a collision. 

   

Vehicle Stability Control: When your new Toyota loses traction and starts to slide, this feature proves to be useful. It'll automatically reduce engine power and apply the brakes accordingly to correct the situation. 

   

Electric Brake Force Distribution: This feature helps keep your brakes from locking up and your new Toyota from losing balance. It redistributes brake force evenly to all of your wheels to make up for shifting weights when braking hard!

   

Smart Stop Technology: This technology is the simplest to understand. It automatically stops the vehicle when both the accelerator and the brake pedal is pressed at the same time, just in case you need to bring your new Toyota to a quick stop!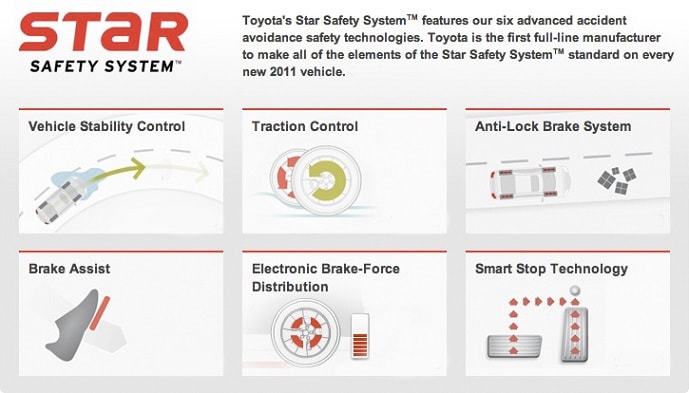 New Toyota near Orlando offer even more safety features

As you can see, all of the safety features included in the Star Safety System work harmoniously with one another to keep you safe while on the road. In addition to this incredible safety system, our new Toyota
near Orlando offer some other fantastic safety features to help keep you out of harm's way, including Blind Spot Monitor, which alerts you when you may not see the vehicle next to you while switching lanes. Some of our new Toyota also offer Safety Connect, which gives you access to help 24/7 at the push of a button in case of an emergency. 

Visit Toyota of Clermont today to check out our vehicles and all of the safety features they have to offer. We're located at 16851 State Road 50, just off the Florida Turnpike. You can also call our Internet Sales Team at (888) 590-6090 with any questions or to set up an appointment to meet with a Sales Specialist. We can't wait to see you here!