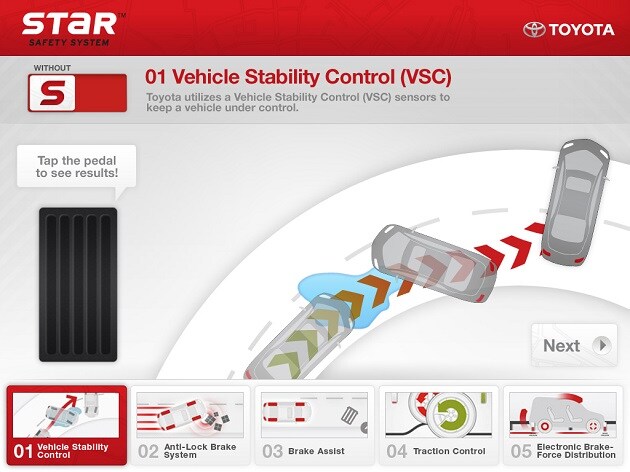 Many new Toyota near Orlando are equipped with some high-tech technology that helps keep drivers and passengers safe at all times. Most drivers are aware of the fact that each new Toyota near Orlando comes with high-tech features such as the Toyota Star Safety System, which is comprised of six main elements: 

   
Vehicle Stability Control
   
Traction Control
   
Anti-Lock Brake System
   
Electronic Brake-Force Distribution
   
Brake Assist
   

Smart Stop Technology

However, along with this system many new Toyota near Orlando also feature other important safety elements!
 
What safety features come in your new Toyota near Orlando? 

Along with the Toyota Star Safety System, other advanced safety components come automatically installed. For example, the importance of airbags and the role they play in safety has been known since the mid-1900s. Did you know that not every advanced airbag system in a new Toyota is the same? 
It's true that each new car Toyota produces comes with an advanced air-bag system. However, these systems are customized and tailored to each vehicle so that all occupants are kept as safe as possible in the event of a car accident. For instance, the new Toyota Camry near Orlando has 10 airbags in it, while the Toyota FJ Cruiser has a system that comes with special Roll-Sensing Side Curtain Airbags (RSCA). 
That's not where safety and security ends, though. You'll notice that the 2014 Toyota Tundra near Orlando also has a special Trailer-Sway Control function that helps drivers stay in control of their truck and cargo at the same time. Bluetooth wireless technology also helped drivers stay focus since it enables them to keep their eyes on the road and hands on the wheel of their new Toyota.
 
Safety Connect System installed in new Toyota near Orlando 

For drivers that want a little bit of extra help and assistance while they're travelling, then the Toyota Safety Connect System can easily meet this need. Many new Toyota near Orlando are able to host this special safety technology, such as the Toyota Avalon. 
The Safety Connect System is different from the Toyota Star Safety System, and is capable of performing some very specific functions that can help put the driver's mind at ease in a moment's notice. 
   
Emergency Assistance: Sometimes a little extra help is needed when you're out on the road. If you ever run into an emergency and need assistance right away, simply use the Emergency Assistance feature. When this button is pressed response center assenter agents are notified right away that you need help.
   
Stolen Vehicle Locator: Walking out to discover your new Toyota near Orlando isn't where you parked it can be a scary experience. With the special locating system that the Toyota Safety Connect System has, its GPS technology helps authorities find your car fast. 
   
Roadside Assistance: Sometimes car owners forget that it was time to take their vehicle in for auto service near Orlando. If this happens, or your car just decides to stop working while you're on the road, the Roadside Assistance feature has you covered. Simply push the SOS button to get the service you need quickly and efficiently! 
   
Automatic Collision Notification: Unfortunately, sometimes car accidents occur. If you ever find yourself in a collision, this notification system is one step ahead of you. It's able to detect if airbags have been deployed or if a rear-end accident has happened. The response center is automatically notified so officials can quickly arrive at the scene! 

If you want access to exceptional safety features while you're on the road, then you're sure to be pleased with what new Toyota near Orlando have to offer. 

To learn more about new Toyota safety systems, or to take a closer look at them for yourself, just stop by and see us! We're located at 16851 State Road 50 and are open until 10:00 pm every day. You can also feel free to call us with any questions you may have. Simply contact our Internet Sales Team at (888) 590-6090.