When it comes to choosing a new Toyota near Orlando, there are a lot of different elements to think about. You need to consider the type of performance you want, how much interior space you need, what types of technology you want included, and more. Buying a new ride can be a lot bigger of a process than you thought! We have one more addition to the list of things to think about that you may have forgotten to consider- resale value. 



What is resale value and how does it affect your new Toyota? 

What is resale value? Basically, resale value is the value that your car will hold when you turn around to sell it down the road. Cars depreciate, no matter which way you look at it - your car will lose value as soon as you drive it off the dealership lot! Luckily for you, our new Toyota near Orlando offer great resale value and are renowned throughout the industry for that quality. However,  if you're not looking to put a new Toyota in your garage, you can still ensure that you choose a new ride with great resale value! 



Make sure you consider retail value when buying your Toyota near Orlando! 

Let's get started - here are some tips for choosing a Clermont Toyota OR any other make and model that will give you tons of resale value down the road! 


   
Think about color. Choosing colors like red, black, white, or silver will give you a whole lot more bang for your buck down the road, while colors like blue, green, orange, and purple tend to drop a car's resale value because not as many people like those hues. Choose wisely when it comes to your new Toyota!
   
   
Think about where you live when narrowing down the performance qualities you want! Here in Florida, it's a little? flat. There's not a huge call for cars that have off-roading capabilities, 4x4, or all-wheel drive, and there's definitely less of a desire for them in the summer. On the flip side, new Toyota with those capabilities have a lot more value in Northern states, especially in winter!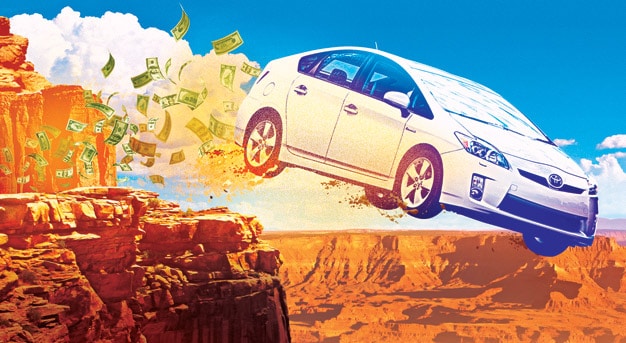 Think about what types of cars are most popular in your area. If you were to get behind the wheel of a new Scion iM near Orlando, it might be well-suited to your city driving needs? but if you were to try and sell it in a more rural part of the country, it would most likely have less value. Make sure your new Toyota near Orlando fits your current location when you go to sell!
   
   
Think about features! Technology changes pretty quickly, so even if you lay down your wallet and throw an aftermarket stereo system or navigation into your new Toyota, it may not make a difference when it comes to resale value in four or five years. However, studies have shown that sunroofs, CD changers, leather seats, and an automatic transmission can all bump up resale value for owners!
   

On top of all that, make sure you stick to a routine car maintenance schedule, staying on top of those oil changes, tire service, and everything else that will ensure your car has a stellar performance for years to come? and keep your service records! They'll help you prove to the new owner that your ride is in excellent shape!

Have questions about resale value? Give Toyota of Clermont a call today at (888) 590-6090 to chat with one of our sales specialists? we're open seven days a week until 10pm!