Have you met the Toyota Prius family at Toyota of Clermont? 

When you're in the market for a hybrid car in Central Florida, one of the first cars that often comes to mind is the Toyota Prius near Orlando
. It's fuel-efficient, eco-friendly, and stylish; moreover, it's pioneer in the world of hybrid technology. After all, it started the hybrid movement over thirteen years ago and has been steadily evolving since then. However, did you know that it's just one member of a go-green family?

At Toyota of Clermont, you can choose between the new Toyota Prius, Prius c, and Prius v - and the Prius Plug-in will be joining the lineup soon enough! Learn the differences between the members of this innovative family!



Take the 2015 Toyota Prius near Orlando for a spin! 

First up is the new Toyota Prius - the forerunner. This original vehicle offers amazing fuel efficiency, capping out at 51 mpg in the city and 48 mpg on the highway.


You're not just saving money, though - you're also doing your part to save the environment! The Hybrid Synergy Drive technology found under the hood cuts down the amount of harmful emissions that your vehicle produces, making it easier than ever to go green.

You'll also find a slick aerodynamic design, as well as innovative technology. Check out the Remote Air Conditioning System or the display audio system with 6.1 inch touch screen on this new Toyota near Orlando!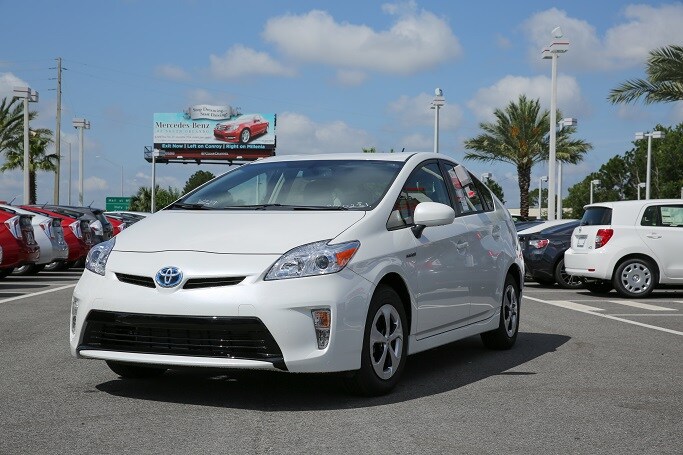 Get family-friendly in the 2015 Toyota Prius v

Want something a little roomier? It's easy to integrate your entire family into your green tendencies when you drive a 2014 Toyota Prius v near Orlando.


This is definitely the family-friendly option of the bunch, as evidenced by its 34 cubic feet of interior space.

It boasts the same hatchback design as the other members of the family for easy access, and integrates technology like automatic climate control, remote keyless entry (you can even access the Smart Key System on some models), and a steering wheel capped with audio, climate, and Bluetooth controls so you can keep your hands on the wheel at all times.

Where else can you find a vehicle that comfortably seats five (plus cargo) and still achieves 44 mpg in the city and 40 mpg on the highway?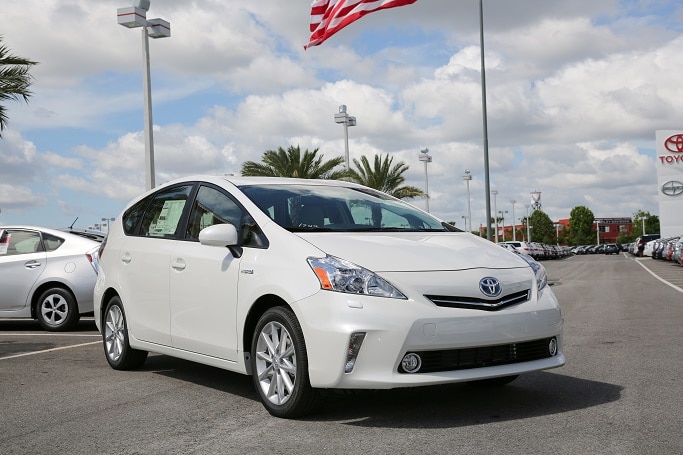 The new Toyota Prius c is perfect for city dwellers

If you're looking for something super-sporty AND eco-friendly, the new Toyota Prius c is your go-to member of the family.


It's more compact than the other three members, but still promises amazing fuel efficiency (53 mpg in the city and 46 mpg on the highway).

This incredible hybrid is perfect for city drivers, and comes decked out with technology like Toyota's Entune, which is a series of multimedia apps that keep you connected at all times.

You'll also love the sporty accents and options found throughout, like a rear spoiler, SofTex seating, and 15 inch 8-spoke alloy wheels!

This new Toyota near Orlando even comes in eye-catching colors, like Habanero and Summer Rain!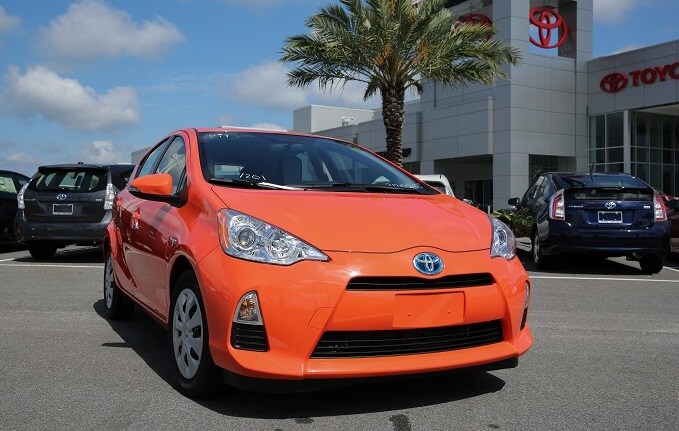 Go extra-green with the Toyota Prius Plug-in!

We haven't received this incredible electric Toyota option yet, but you can bet we'll be announcing it when we do! The Toyota Prius Plug-in offers you an all-electric drive (with a hybrid system for backup, like when you need to hit the highway or make it a longer trip).


It's incredible efficient and even more environmentally friendly than its siblings, and comes with cool features like a JBL Audio System and Premium HDD Navigation System.

It even comes with a charging cord that you can plug into a normal outlet in your garage!