Have you heard that you can never be too prepared? This is especially true in your vehicle. Driving can be unpredictable, and you should be ready for a variety of situations that could arise. Instead of having your car filled with unnecessary items, our Clermont Toyota dealership has compiled a list of important items you should keep in the glove box, or glove compartment, of your Clermont Toyota.
Get your Clermont Toyota's glove box properly packed!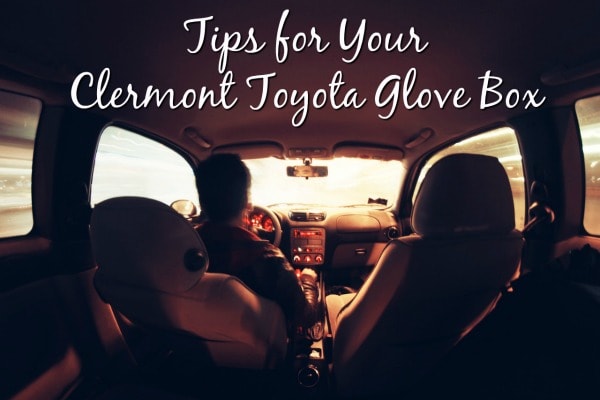 You may not think about it initially, but your glove compartment is the perfect spot to keep important and helpful items. Your glove box is in a position where you can easily access it from the driver's seat, unlike your backseat or trunk. When you're out on the road in your Clermont Toyota, there are a number of items you should keep in your glove box at all times.
The Crucial Ones
There are a number of items that you should keep in your new Clermont Toyota, not just for safety, but that are also required by law. This handful of items includes:
Proof of insurance - Legally, you must always have proof that your Clermont Toyota is insured. You should have your proof easily accessible in case you are pulled over and must show it to the authorities.
Car registration -Just like insurance, you must have your valid car registration on hand. If you are pulled over by the police, you must show that your Clermont Toyota is registered and the tag is not expired.
Emergency contact information - Write down names and phone numbers of people authorities can get ahold of in case of an emergency. Leave this list easily seen in your glove box.
Owner's manual - Keep this in your glove box just in case you need information about your Clermont Toyota like what dashboard symbols mean or where your spare tire is located.
Pen and paper - Just in case you are in an accident and need to exchange information with others involved in the collision.
Medical information - Make note of any medical conditions, allergies or medications that you or your family members may need if you're not able to communicate the needs yourself.
The Convenient Stuff
You should also keep a variety of helpful items inside your Clermont Toyota glove box, like:
Flashlight - for help finding lost objects under the seats.
Tire pressure gauge - determine which tire is making your low tire pressure light come on.
Phone charger - you don't want to be stuck with a dead cell phone when you're facing car troubles.
Napkins - clean up any accidental spills or food messes with handy paper napkins.
Be ready for anything in your Clermont Toyota!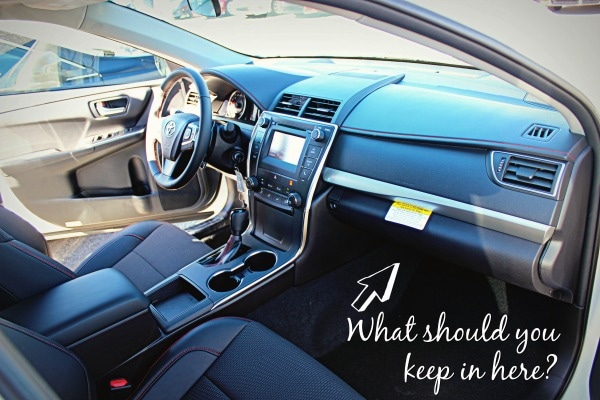 Now that you've got your glove box stocked, you can be ready for a number of different situations. If you want to be ready for emergencies like flat tires or dead car batteries, you should prepare a roadside emergency kit with items like:
Bottled water and blankets
If you need help determining what items you should keep in your Clermont Toyota at all times, just give us a call! We can get you prepped! Call us at (888) 590-6090!