Do you have your eye on taking home a new Toyota truck near Orlando? If the answer is yes, then you definitely have plenty of options to choose from! Both the new Toyota Tacoma and new Toyota Tundra near Orlando come in multiple new Toyota trim-levels so that drivers can easily pick out the option that works best for them.  
However, it's pretty common for drivers to want to further customize what their vehicle is able to do. Fine-tuning the performance and capabilities of your new Toyota truck near Orlando is pretty easy - all you have to do is take advantage of the Toyota truck packages we offer!
 
Easily customize your new Toyota truck near Orlando!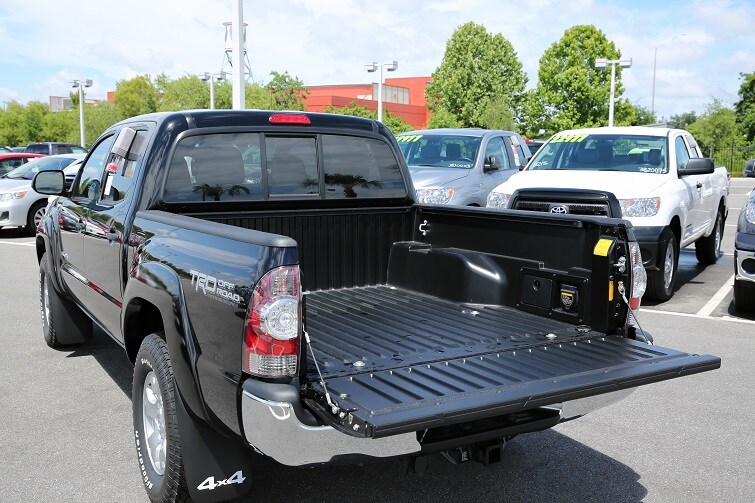 You can already choose and modify what features your new Toyota truck near Orlando comes with by selecting the kind of model you want. Your options just don't end there, though. Different trim-levels can be customized even more through the different packages we offer! 
Toyota Tacoma
The 2014 Toyota Tacoma near Orlando is celebrated for being a family-friendly option, but that doesn't mean it also can't deliver tough or stylish features. 
   
Convenience Package: The base model of the new Toyota Tacoma near Orlando already has a lot to offer, but you can up the ante if you're looking at the Access Cab or Double Cab! The option of a Convenience Package is available, and it installs a few extra features in this truck to make each drive a little bit easier! Between additions that include remote keyless entry, power mirrors, audio controls and more, drivers can have access to features that will make each trip less stressful! 
   
   

SR5 Extra Value Package: Drivers of the Access Cab have a few more features to enjoy than what the base model offers, but you can fine-tune these options even more! With the SR5 Extra Value Package, both the style and interior features get some changes. A leather trim is added to the interior, and a chrome grille surround and rear bumper are installed! That's not all, either. An integrated back-up camera is also put inside so that drivers can get a better view before they back out their Toyota Tacoma near Orlando. 

Toyota Tundra

The 2014 Toyota Tundra near Orlando received some new trim-levels for the 2014 model year, so the curb-appeal of this vehicle has already been modified and increased. However, some new customized packages are also available for drivers to enjoy so that they can get the exact performance they want without sacrificing style! 

   
Limited Premium Package: Do you love the style of the new Toyota Tundra near Orlando you picked out, but wish it came with just a few more features? That's easy to accomplish when you get this special package! It comes with some additions like rear parking assist sonar to help drivers when they're in tight parking spots, and also delivers an illuminated system that includes the room, foot, and ignition key so drivers can easily hop in and start the truck even when it's pitch black outside. 
   
   
TRD Off-Road Package: Not every vehicle is equipped with all the features needed to go off-road. The new Toyota Tundra near Orlando is already pretty tough, but you can make sure it's ready for any adventure by getting the TRD Off-Road Package! This option comes with front tow hooks, alloy wheels, Billstein shock absorbers, and an engine skid plate. With all these special features, you can easily head off-road and stay in control at all times!
   
   

Work Truck Package: If you find yourself on tough and rough work jobs on a regular basis, then it's important to make sure your vehicle is equipped with all the necessary tools! The Work Truck Packages helps your new Toyota truck near Orlando be ready. It takes away the power windows and wireless door locks, and also adds vinyl flooring and vinyl seating. With all these changes, your truck is ready for whatever tough job you have to take care of.
Pick out the new Toyota truck - and package - that's right for you!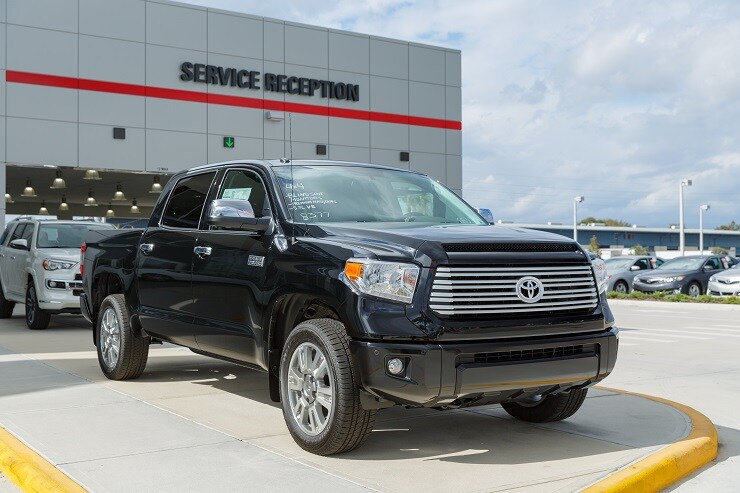 Ready to enjoy tough transportation that comes with the style, features, and capabilities you need? Between the new Toyota trucks near Orlando we offer, and the different customized packages that are available, you have plenty to choose from! Come and see us to find the one that will work best for you! 
We're located west of the Florida Turnpike at 16851 State Road 50, and our Internet Sales Team can be reached at (888) 590-6090!