Have you been trying to combine your stylish personality with your adventurous spirit? Then you're probably shopping for a new truck! A mid-sized pickup truck is the best of both worlds when you're looking for a vehicle that can show off style and always be ready for off-road ventures. Truck shopping can be a whirlwind - how do you decide? Our new Toyota dealership near Orlando is comparing two popular pickup trucks to help you find your dream truck!
See how the Chevrolet Colorado stands up against the Toyota Tacoma!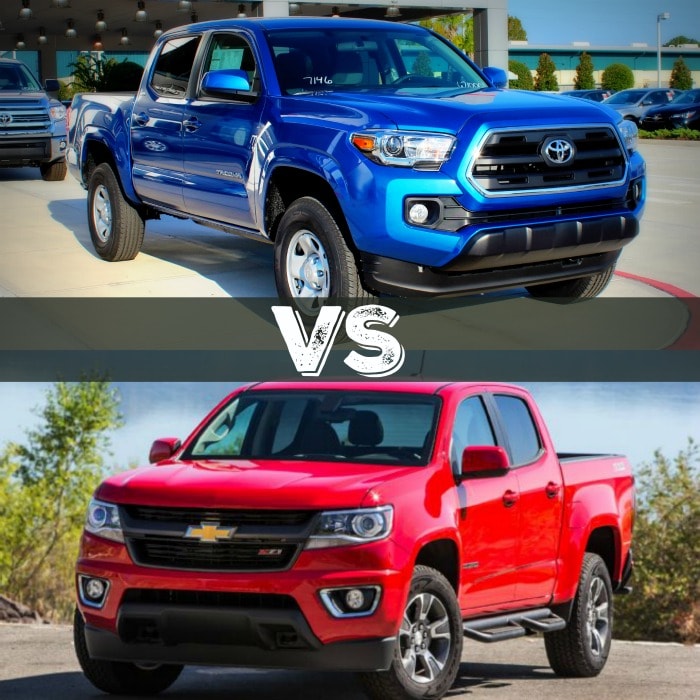 People have been talking about the mid-sized Chevy Colorado and the all-new Toyota Tacoma near Orlando - but which is the better ride? At our new Toyota dealership, we're comparing the two trucks to help you narrow down your options, pick a ride, and fall in love!
Toyota of Clermont has thoroughly compared the two trucks. To make our comparisons more specific, our Toyota dealership near Orlando is comparing the Toyota Tacoma 4x4 Double Cab Limited to the Chevy Colorado Crew Cab Four-wheel Drive Long Box. Check out what we've found:
Performance and Capability
When you're shopping for a truck, you want performance to "wow" you. Pickup trucks are meant to be rough and tough and able to handle whatever you throw at them- and that's exactly what the 2016 Toyota Tacoma near Orlando is. The Toyota Tacoma and Chevy Colorado both have part-time four-wheel drive, making them capable tackling all of Mother Nature's obstacles. The Toyota Tacoma also boasts an off-roading must-have, limited slip differential, which the Chevy Colorado does not.
Just because you're adventurous doesn't mean you're not frugal. Reduce fuel costs with a fuel-efficient truck. The Toyota Tacoma has a 3.5 liter V6 engine and 6-speed automatic transmission that has a combined fuel economy of 20 mpg, equal to the Chevy Colorado with a 3.6 liter V6 engine with 6-speed automatic transmission. The Toyota Tacoma near Orlando gets 18 mpg in the city while the Chevy Colorado gets 17!
Convenience and Technology
Life is busy and stressful, but your drive doesn't have to be. Find a truck packed with convenience and entertainment features that will make your drive time easier - like the Toyota Tacoma near Orlando! In comparison to the Chevy Colorado, only the 2016 Toyota Tacoma near Orlando has an MP3 player, universal garage door opener, power moonroof, satellite radio, and Bluetooth wirelessly connectivity.
The Toyota Tacoma near Orlando also comes standard with cruise control, a compass, separate front seat climate controls, and a navigational system through the Entune Audio system.
Safety and Durability
Keep your family and friends safe while traveling in a new truck with top of the line safety features. Both new trucks, the Toyota Tacoma and Chevy Colorado, come standard with safety features like four wheel ABS brakes, electronic traction control, front airbags, hill start assist control, low tire pressure indicator, and stability control. However, only the 2016 Toyota Tacoma near Orlando has a brake assist system, front knee airbags, downhill assist control, and front fog lights. Additional safety measures on this Toyota truck near Orlando include parking distance sensors and a Smart Key System with keyless entry.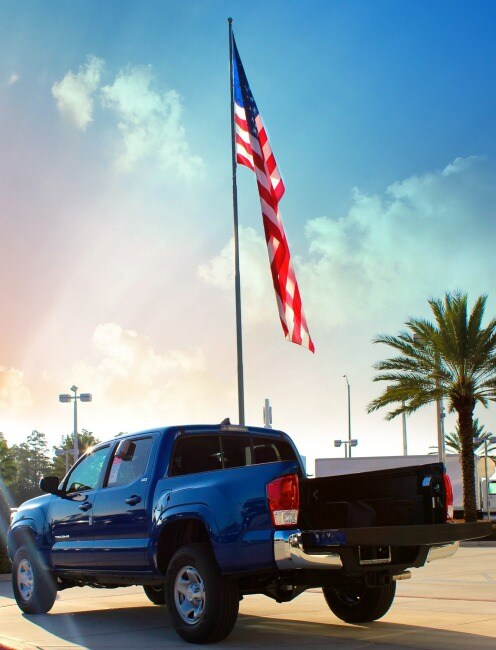 Price
Toyota prides itself on being an affordable option for drivers. Not only does Toyota provide a quality and reliable vehicle, it comes with a fair price. This decked-out and top-notch Toyota truck near Orlando has a starting MSRP of $38,720. While more expensive than the Chevy Colorado MSRP of $31,400, the Toyota Tacoma near Orlando comes standard with a style and an attitude that's priceless!
Test drive a new Toyota truck near Orlando!
You started not knowing which new truck you wanted - but now the answer is clear! To test drive the 2016 Toyota Tacoma near Orlando, visit our new Toyota dealership! Visit us at 16851 State Road 50, between the Florida Turnpike and Highway 27!