Picking the right truck can be a challenge - or at least seem like one. Signing the dotted line for a new ride is a big decision, so you need to ensure you're picking the perfect drivetime solution before you hit the road. Toyota of Clermont is here to help! We've got a great selection of new Toyota trucks near Orlando, including the versatile 2015 Toyota Tacoma. We're comparing this best-selling compact truck to one of its biggest competitors to narrow the field - let's see how it stands up to the 2015 Nissan Frontier!

How does the 2015 Toyota Tacoma near Orlando take on Nissan competition?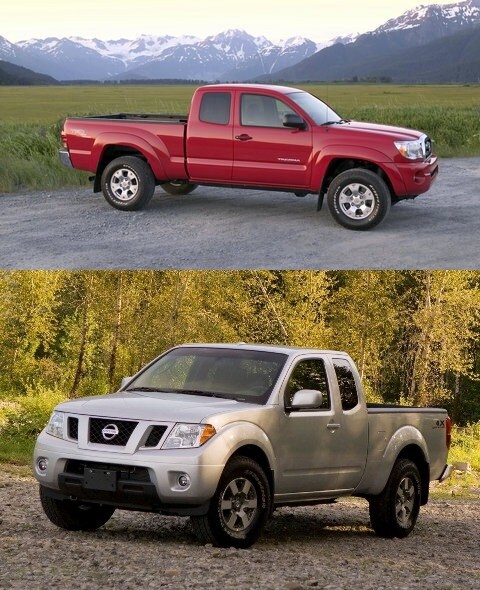 Both of these trucks are exemplary drive time solutions if you want a versatile option that's powerful, tech-driven, and stylish. However, we feel that the 2015 Toyota Tacoma near Orlando pulls ahead of its Nissan counterpart in several areas. We're comparing the 2015 Toyota Tacoma Access Cab to the Nissan Frontier King Cab - let's get started! 
Price: 
Price is always a big factor when choosing between cars, and the new Toyota Tacoma near Orlando has a clear advantage in this category - it has a starting MSRP of $21,850, while the 2015 Nissan Frontier kicks off at $23,905! That's a savings of over $2,000 right off the bat!

Performance: 
The 2015 Toyota Tacoma near Orlando definitely outperforms its Nissan competition when it comes to performance. Here are some of the highlights!

Fuel economy: This new Toyota truck gets 21 mpg in the city and 25 mpg on the highway for a combined 22 mpg total. The Nissan Frontie lags behind with 17 mpg in the city, 23 mpg on the highway, and a combined mpg of 19! 
Horsepower/Torque: This best-selling Toyota gets 159 horsepower and 180 lb-ft of torque, versus the Nissan truck's 152 horsepower and 171 lb-ft of torque. Trust us, those discrepancies can take a toll on your overall drive time! 
Payload: This Toyota truck near Orlando also wins in the payload category - this is the maximum weight that the truck can carry. It can handle up to 1285 pounds, while the 2015 Nissan Frontier maxes out at just 913 pounds! 
Handling: The 2015 Toyota Tacoma offers you a smaller curb to curb turning circle (42.3 feet versus 43.42 feet) and has a longer wheelbase (127.4 inches versus 125.9 inches) for a smoother, more comfortable ride!
Space: 
You'll also get a bit more space in this 2015 Toyota truck near Orlando - it has more interior volume, headroom, shoulder room, and rear leg room than the 2015 Nissan Frontier for a more spacious and accommodating interior for you and your passengers!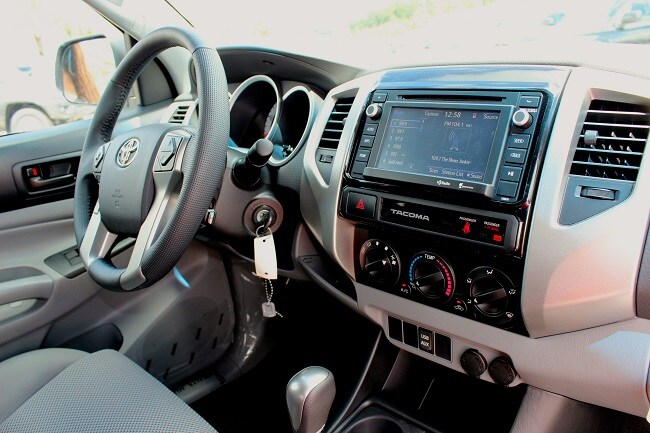 Get more options and customization in this new Toyota truck!
You'll also find more options up for grabs when it comes to this 2015 Toyota truck. You can add on features like running boards, a leather-wrapped steering wheel, an integrated backup camera, skid plates for underside protection, a trailer hitch, voice-activated controls for audio and Bluetooth, and even a tow package to give you major efficiency and performance when towing! 
Don't take our word for it! You can come see for yourself - take the 2015 Toyota Tacoma near Orlando for a spin at our dealership and see in person how it compares to (and exceeds) the 2015 Nissan Frontier. You can call us to learn more about our truck deals at (888) 590-6090!