Are you looking for a cheap and reliable ride? If so, you might already have the 2015 Toyota Corolla near Orlando on your radar. However, it's always a smart idea to compare similar cars to ensure you're making the right decision. This is why we're comparing the Toyota Corolla to the 2015 Honda Civic. Find out what makes our 2015 Toyota the better option!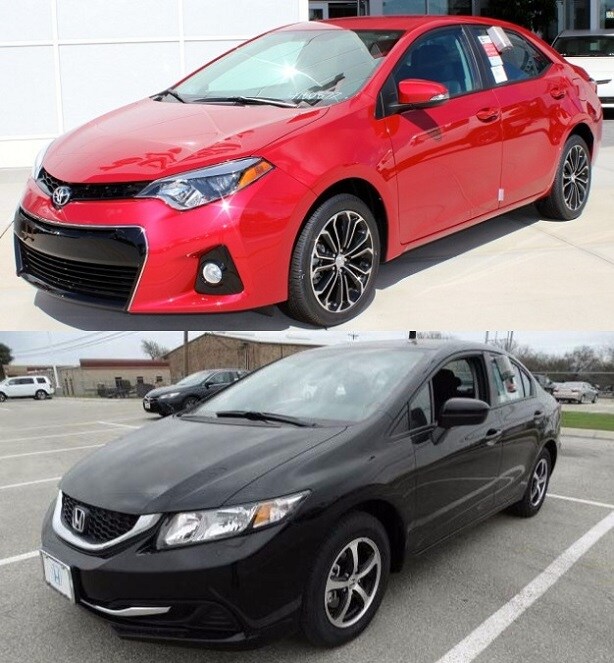 2015 Toyota Corolla near Orlando outshines its Honda rival
We're comparing the Toyota Corolla near Orlando to the Honda Accord because of how similar they are. They're both compact sedans that offer a sporty drive time. However, you'll notice the 2015 Toyota Corolla pull ahead when you look at how these two vehicles compare in different categories like style, technology, performance, and space! We're sharing the details.
Style
Although these vehicles may look similar, you'll find stylish features on the Toyota Corolla that you won't get with the Honda Civic. This new Toyota was recently redesigned with a piano black front grille and a chrome-tipped exhaust! It also comes standard with LED daytime running lights and LED headlights.

Technology
Getting the technology you want won't be an issue in this 2015 Toyota near Orlando! The Toyota Entune System exceeds the capabilities of the multimedia system you'll find in the Honda Civic. You can use this system to access turn-by-turn navigation and even access some of your favorite apps via App Suite!
Performance
We know performance is also important to you when choosing a ride. Although both of these vehicles off similar fuel economy ratings, you can end up saving more money at the pump with the Toyota Corolla near Orlando! This new Toyota is available in a LE ECO trim level, which gets an estimated 30 mpg in the city and 40 mpg on the highway. You can get added fuel economy with the Honda Civic, too, but you'll have to pay more to add hybrid technology under the hood!
Space
You and your passengers will definitely be more comfortable in the 2015 Toyota Corolla, as it offers more cabin space than its Honda rival! It has 97.5 cu. ft. of passenger volume, while the Honda Civic only has 94.6 cu. ft. of passenger volume! Your passengers will also get more legroom, as the Toyota Corolla offer 41.4 inches (versus 36.2 inches in the Honda)!

Additionally, this 2015 Toyota comes with 13.0 cu. ft. of cargo space and standard 60/40 split seats. Its Honda competitor only comes with 12.5 cu. ft. of cargo space and you'll have to upgrade your ride for 60/40 split seats!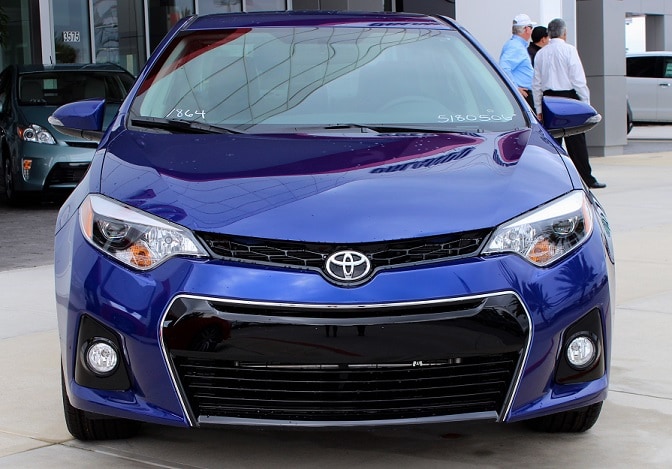 Get more for your money with this new Toyota!
Not only does the 2015 Toyota Corolla near Orlando have all of this to offer, it's available for a cheaper price than the Honda Civic Sedan! This new Toyota has a starting MSRP of $16,950, while its Honda competitor kicks off at $18,490. This is nearly $2,000 more that you'll have to pay right off the bat when you choose the Honda option! You shouldn't have to pay more money when you're not getting more value!
Want to know more about this new Toyota? Head to our Toyota dealership at 16851 State Road 50, between the Florida Turnpike and Highway 27. Give us a call at (888) 590-6090 to schedule an appointment to take a test drive.