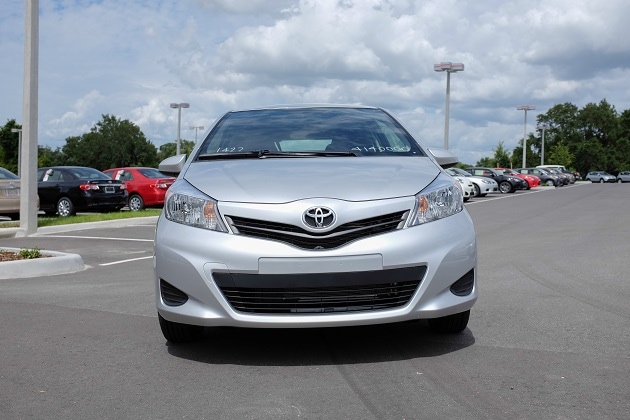 The 2014 Toyota Yaris is at Toyota of Clermont, and the latest model year of this Toyota continues to offer incredible features that every driver will be sure to enjoy! Just because this vehicle's design is slightly smaller than the average four-door sedan doesn't mean that you can't have access to just as many high-tech components - if not more! 

If you want an extremely affordable mode of transportation that delivers the latest in terms of safety, entertainment and versatility then then the new Toyota Yaris near Orlando is definitely an option to consider. 

Five trim-levels

With more than one trim-level to explore, it's supremely easy to get the exact combination of interior features, style, luxury, and convenience you're looking for. Take your pick from the: 

   
3-Door L

   
5-Door L
   
3-Door LE
   
5-Door LE

   

5-Door SE

Regardless of which trim-level captures your attention, the features that each one offers will be sure to help deliver the smooth and seamless driving experience that every driver is looking for.
 
Safety and Technology are found throughout the 2014 Toyota Yaris!

Safety
The last thing any driver wants to leave to chance is safety. With the 2014 Toyota Yaris near Orlando, the security of you and your passengers won't be a point of concern! This vehicle comes with more than one safety mechanism so that no matter what's taking place on the road drivers can and occupants can be assured that their safety isn't compromised. 
   
The Toyota Star Safety System is a component found in every trim-level of the 2014 Toyota Yaris. It comes with more than one mechanism that's designed to work with safe driving habits. For instance, the Brake Assist feature kicks in whenever a panicked braking scenario is detected, which can help prevent a collision! 
   
An advanced air bag system featuring nine airbags is also installed in the new Toyota Yaris near Orlando. This system even features a drive knee airbag, along with front and rear side curtain airbags so everyone can feel safe and secure at all times, no matter where they're sitting. 
   

A Tire Pressure Monitor System is also a standard feature in every trim-level. This important component helps notify the driver if any tire ever needs its air pressure adjusted, which can help prevent blowouts!
These mechanisms aren't the only features that can be found in the 2014 Toyota Yaris near Orlando when it comes to safety. Did you know that its very design and interior structure has certain elements that also assist with this? 

   
Whiplash-Injury-Lessening Seats for the driver and front passenger

   
Lower Anchors and Tethers for Children (to help secure car seats)
   
Collapsible steering column that also has energy-absorbing capabilities 
   

Head-impact protection structure
Entertainment

A lot of forethought and attention has gone into the design of the 2014 Toyota Yaris near Orlando to help make sure that it can deliver not only incredible style, but also access to some of the latest innovations. The superior audio system that the new Toyota Yaris near Orlando comes with features multiple options for not just the driver to enjoy, but passengers too! 

   
Not only does is an AM/FM CD player a standard element, but this system is also compatible with SiriusXM radio and also offers HD Radio! This means that if you desire to listen to satellite radio, your 2014 Toyota Yaris near Orlando already comes with the necessary equipment to give you this kind of access!

   
More than satellite radio capability can be found inside the 2014 Toyota Yaris near Orlando, too. The audio system also features an auxiliary audio jack. With the proper cord, it's easy to plug-in almost any technological device!

   

The USB port that sports iPod connectivity offers yet another way for divers of the Toyota Yaris near Orlando to create the listening experience they want! 

Don't forget that every trim-level also comes with Bluetooth wireless technology, which makes handling phone calls while driving much easier and convenient.
 
The 2014 Toyota Yaris near Orlando is designed to be versatile and spacious!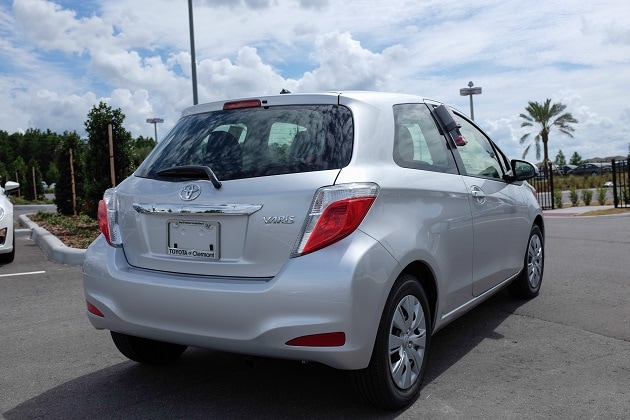 Along with the superior entertainment and safety features that come with the Toyota Yaris near Orlando, it's also equipped to meet a variety of driving preferences and spacing needs. 
   
Certain trim-levels of this new Toyota near Orlando (3-Door L and 5-Door SE) give drivers a choice between a manual and automatic transmission.

   
Whenever needed, the seating arrangements can easily be altered in order to provide trunk space in a moment's notice.

   
The extremely comfortable fabric-trimmed seats help everyone feel relaxed and comfortable for the drive.

The 2014 Toyota Yaris near Orlando offers not just top-quality design, but incredible safety features, multiple entertainment options, and a vast array of choices to help customize every driving experience. 

This new Toyota is bound to be a popular option, so don't wait to get behind the wheel and experience all it has to offer! Stop by and see us at 16851 State Road 50 to take it out for a spin today, or give us a call at (888) 590-6090!